San Martino del Vescovo
Dante's Parish Church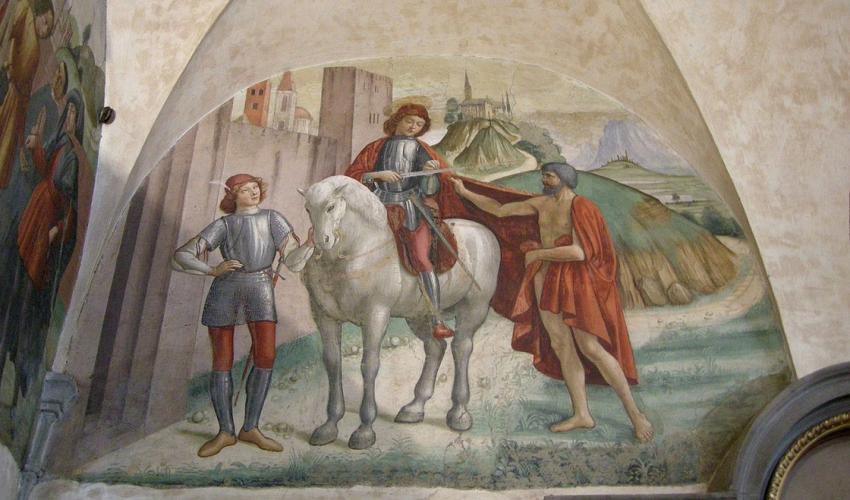 Founded in 986, Dante's parish church of San Martino was relocated here into a former wool shop in 1479 when it became the headquarters of the Dominican charitable Compagnia dei Buonuomini ('Company of Good Men') founded by the Dominican St Antonino Pierozzi in 1442 and initially funded by Cosimo il Vecchio.
The twelve Nu devoted to the 'poor too ashamed to beg', generally respectable families fallen on hard times. They would drop requests for help in the slot labelled 'Per le istanze'
The Compagnia commissioned a follower of Ghirlandaio (at lest one scene, the Dream of St Martin has been attributed to Lorenzo di Credi) to paint a series of colourful frescoes on the Life of St Martin and the Works of Charity, scenes which are acted out by quattrocento Florentines, in their own fashions on their own streets.
The church also has a fine Byzantine Madonna, and one by Perugino, the latter by a rare surviving finestra a tromba, a window used to distribute bread during the plague. The twelve Buonomini still meet in secret on Friday afternoon in the Sala Riunioni to discuss business and distribute donations to the needy.
Piazza San Martino
Hours Mon-Fri 10am-noon and 3-5pm
Adm Free