Perugino
Renaissance Painter of Sweet Madonnas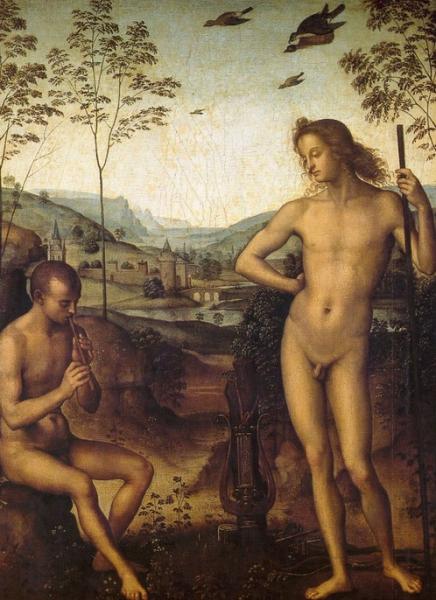 Born in the Umbrian town of Città della Pieve, Perugino (Pietro Vannucci) c. 1450–1523) was the most distinctive of the Umbrian painters, creating works of genius, along with countless idyllic nativity scenes, each with its impeccably sweet Madonna and characteristic blue-green tinted background, reminiscent of his native region.
Perugino was one of several great painters to come out of the workshop of Andrea del Verrochio, along with the likes of Leonardo da Vinci. He worked in both Florence and Perugia, and by 1480, he was so successful that summoned to Rome by Pope Sixtus IV to paint several scenes on the walls of the Sistine Chapel. In 1496, Perugino took on a new young pupil named Raphael, whose earliest works in Perugia (in the Collegio del Cambio) so closely resembled his master's they are hard to tell apart.
Perugino's later years weren't always happy, and sometimes galling in the extreme. He sued Michelangelo after the latter called him to his face a goffo nell' arte (an 'oaf in art'), and lost, and after Julius II invited him to return to Rome to paint the Stanza of the Incendio del Borgo in the Vatican, the pope changed his mind and hired Raphael.
In his Lives of the Artists Vasari wrote that Perugino, in spite of all the Madonnas he painted, was not a believer (it is true that many of the latter ones have an insipid bland look, as if painted by rote). He died of the plague while working on a commission in Fontignano near Perugia, and was quickly buried in an unknown location.
Look for his paintings in Florence in the Uffizi, Accademia(Vallombrosa Altarpiece), the altarpiece in SS. Annunziata, Santa Maddalena dei Pazzi (his Crucifixion) and the Cenacolo di Fuligno