Santi Apostoli
One of the Oldest in Florence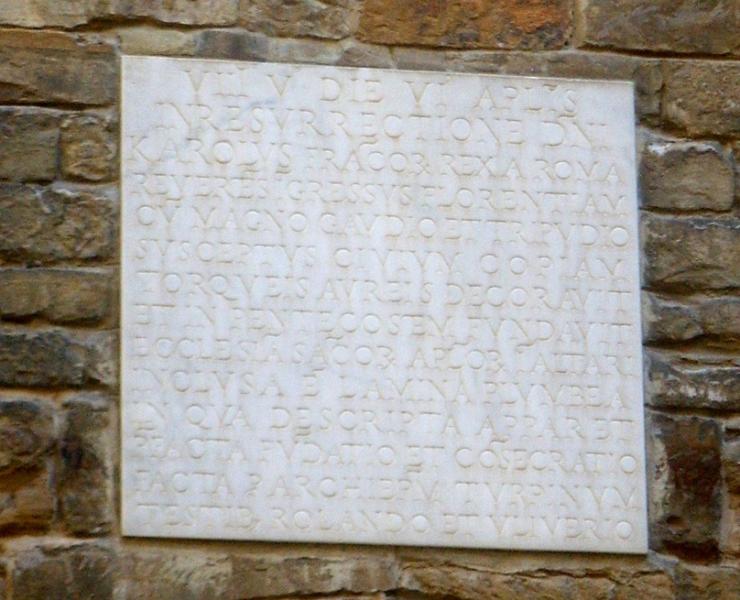 One of Florence's oldest churches, the 11th century SS. Apostoli is in the sunken Piazzetta del Limbo, once the cemetery of unbaptized babies. An inscription on the façade attributes the foundation to Charlemagne and his paladin Roland, in the year 800, but what stands today is from the 11th century.
The simple façade, in Romanesque style, has a portal by Benedetto da Rovezzano and a small bell tower added by Baccio d'Agnolo in the 16th century. There was talk soon after of raising the square and rebuilding the church, but Michelangelo intervened and urged its preservation.
Interior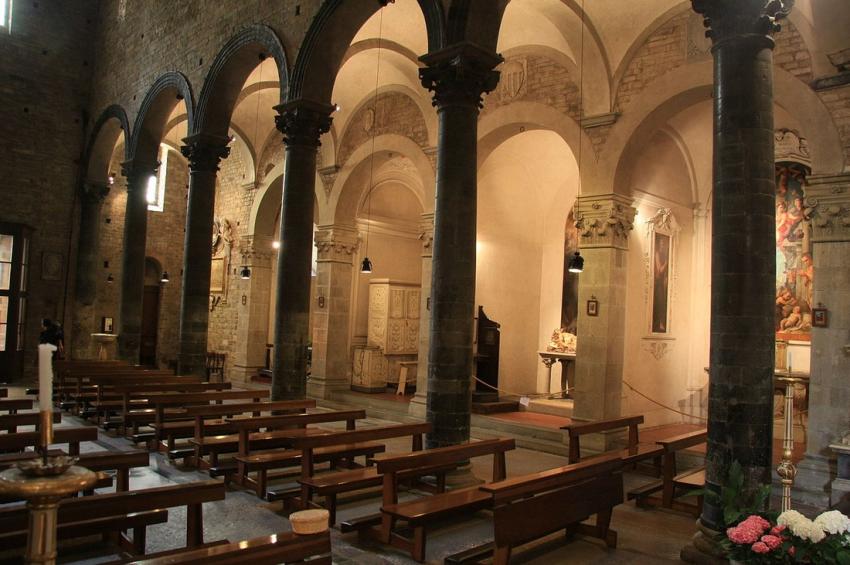 SS. Apostoli is one of the few Florentine churches to preserve its medieval original interior, especially evocative and numinous on a winter's evening: ancient green marble columns and capitals cannibalized from Roman baths in Prato line the name with a stone Romanesque apse at the head; above, richly decorated wooden beams from the 14th century, below, a restored mosaic floor.
The side chapels were added in the 16th century, but the art isn't that exceptional, much of it devoted to tombs and busts of the Altoviti family who patronized the church: to the left of the apse is a polychrome tabernacle by Giovanni della Robbia. The third chapel on the left features the Archangel Michael defeating Lucifer by Alessandro Fei.
The Pietre del Santo Sepolcro
The church's most important relics, housed here since 1785, are ones not on display: three slivers of flint, which according to the story ('putative' is the key word) were chipped from Christ's Sepulchre in Jerusalem and given by Geoffroy de Bouillon to Pazzino di Ranieri de' Pazzi, who led 2500 Florentines in the First Crusade and on July 15, 1099, was the first over the walls of the holy city after the lengthy siege.
The Pazzi brought the precious flint chips to Florence in 1101, and initiated Jerusalem's Orthodox custom of celebrating Easter: all fires in the city's hearths would be extinguished on Good Friday until Easter, when the flints would be struck to light the Paschal Candle at midnight on Holy Saturday. This holy fire would be passed around the to every church lamp and delivered by a cart into every home in Florence. The Pazzi family, who sponsored the celebration, would be the cart's first stop, a tradition that evolved into the Scoppio del Carro.
And a British Connection
Today, SS. Apostoli is the parish of Florence's English-speaking Catholics, appropriately enough for just around the corner, on Lungarno Corsini, you'll find the British Consulate in the Palazzo Masetti. Ironically this was once home to the flamboyant Countess of Albany, wife of Bonnie Prince Charlie, who found happiness by leaving the Pretender for Italian dramatist Vittorio Alfieri, but insisted to the end that she was Britain's rightful Queen Louise.