Medieval Art & Architecture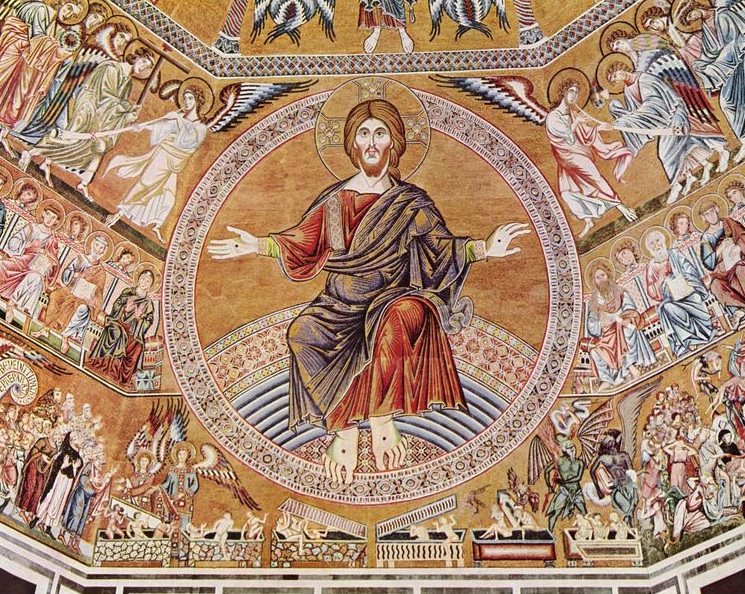 In both architecture and sculpture, the first influence came from the north. Lombard masons filled Tuscany with simple Romanesque churches, although it wasn't long before two distinctive Tuscan forms emerged: the Pisan style, characterized by blind rows of colonnades, black and white zebra stripes, and lozenge-shaped designs; and the 'Tuscan Romanesque' which developed around Florence, notable for its use of dark and light marble patterns and simple geometric patterns, often with intricate mosaic floors to match (the Baptistry and San Miniato are the chief examples).
From the large pool of talent working on Pisa's remarkable cathedral complex in the 13th century emerged Italy's first great sculptor, Nicola Pisano, whose Baptistry pulpit, with its naturalistic figures derived from ancient reliefs, finally broke away from the stiff hierarchic figures of Byzantium.
His even more remarkable son, Giovanni Pisano, prefigures Donatello in the expressiveness of his statues and the vigour of his pulpits; his façade of Siena cathedral, though altered, is a unique work of art. Arnolfo di Cambio, a student of Nicola Pisano, became chief sculptor-architect of Florence during its building boom in the 1290s, designing its cathedral and Palazzo Vecchio with a hitherto unheard-of scale and grandeur.
Cimabue and Giotto
Painting at first lagged behind the new realism and more complex composition of sculpture. The first to depart from Byzantine stylization, at least according to the account in Vasari's Lives of the Artists, was Cimabue, in the late 1200s, who forsook Greek forms for a more 'Latin' or 'natural' way of painting.
Cimabue found his greatest pupil, Giotto, as a young shepherd, chalk-sketching sheep on a piece of slate. Brought to Florence, Giotto soon eclipsed his master's fame (artistic celebrity being a recent Florentine invention) and achieved the greatest advances on the road to the new painting with a plain, rather severe approach that shunned Gothic prettiness while exploring new ideas in composition and expressing psychological depth in his subjects.
Even more importantly, Giotto through his intuitive grasp of perspective was able to go further than any previous artist in representing his subjects as actual figures in space. In a sense Giotto actually invented space; it was this, despite his often awkward and graceless draughtsmanship, that so astounded his contemporaries.
His followers, Taddeo and Agnolo Gaddi (father and son), Giovanni da Milano, and Maso di Banco filled Florence's churches with their own interpretations of the master's style.
In the latter half of the 1300s, however, there also appeared the key figure of Andrea Orcagna, the most important Florentine sculptor, painter and architect of his day. Inspired by the more elegant style of Andrea Pisano's Baptistry doors, Orcagna broke away from the simple Giottesque forms for a more elaborate, detailed style in his sculpture, while the fragments of his frescoes that survive have a vivid dramatic power which undoubtedly owes something to the time of the Black Death and social upheavals in which they were painted.
Sienese Influences
Siena never produced a Vasari to chronicle its accomplishments, although they were considerable; in the 13th and 14th centuries, Siena's Golden Age, the city's artists, like its soldiers, rivalled and often surpassed those of Florence. For whatever reason, it seemed purposefully to seek inspiration in different directions from Florence; at first from central Italian styles around Spoleto, then, with prosperity and the advent of Guido da Siena in the early 1200s, to the more elegant line and colour of Byzantium.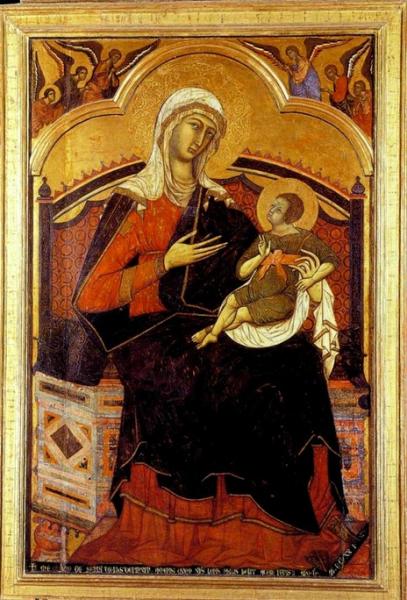 Guido's work paved the way for the pivotal figure of Duccio di Buoninsegna, the catalyst who founded the essentials of Sienese art by uniting the beauty of Byzantine line and colour with the sweet finesse and new human warmth of western Gothic art.
With Duccio's great followers Pietro and Ambrogio Lorenzetti and Simone Martini, the Sienese produced an increasingly elegant and rarefied art. They were less innovative than the Florentines, though they brought the 'International Gothic' style – flowery and ornate, with all the bright tones of May – to its highest form in Italy. Simone Martini introduced the Sienese manner to Florence in the early 1400s, where it influenced most notably the work of Lorenzo Monaco, Masolino, and the young goldsmith and sculptor, Ghiberti.