Ponte Santa Trínita
Michelangelo's arches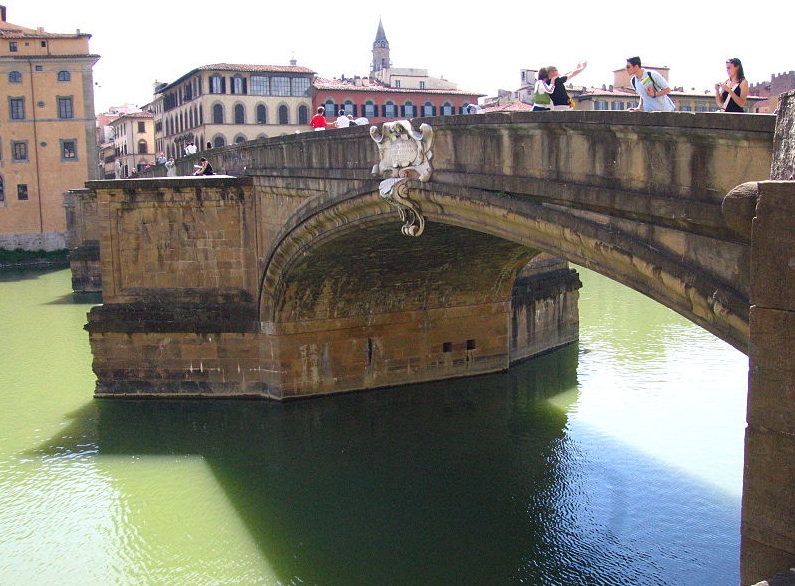 In the summer of 1944, the Arno briefly became a German defensive line during the slow, painful retreat across Italy. Before leaving Florence, the Nazis blew up every one of the city's bridges, saving only, on Hitler's special orders, the Ponte Vecchio, though they blasted a large number of ancient buildings on each side of the span to create piles of rubble to block its approaches. Florence's most beautiful span, the Ponte Santa Trínita, was the most tragic victim.
Immediately after the war the Florentines set about replacing the bridges exactly as they were: for Santa Trínita, old quarries had to be reopened to duplicate the stone, and old methods revived to cut it (modern power saws would have done the job too cleanly). The graceful curve of the three arches was a problem; they could not be constructed geometrically, and considerable speculation went on over how the architect (Ammannati, in 1567) did it.
Finally, recalling that Michelangelo had advised Ammannati on the project, someone noticed that the same arch could be seen on Michelangelo's tombs in the Medici Chapels, constructed by pure artistic imagination.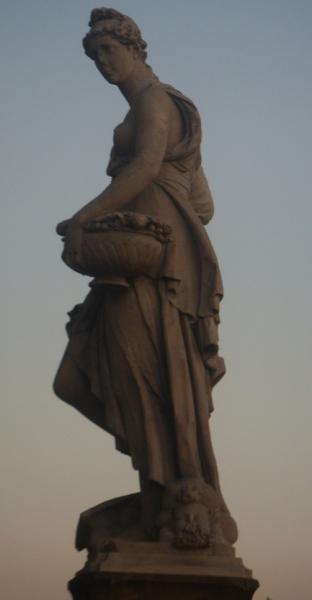 Fortune lent a hand in the rebuilding; almost all the pieces of the bridge's original statues of the Four Seasons were fished out of the Arno and put back together. Only Spring's head was missing, until divers found it by accident in 1961.