Villa Artimino
Sweet Medici Villa and Archaeology Museum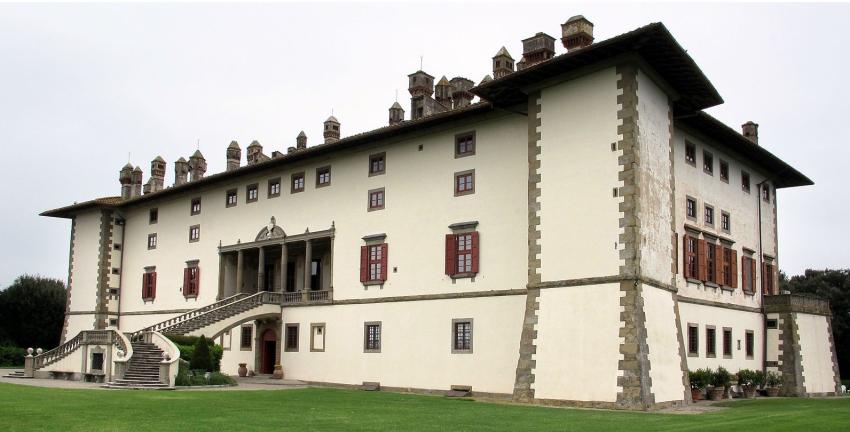 The Etruscan city of Artimino, just south of Carmignano, was destroyed by the Romans. It's just a village now, with yet another Medici property, the Villa Artimino (also called 'La Ferdinanda'), built as a hunting lodge for Ferdinando I by Bernardo Buontalenti.
Buontalenti, who spent much of his life building fortresses for the Medici, gave them perhaps the most delightful of their many villas here. It does have a semi-fortified air with its corner buttresses, but the total effect is simple and charming, the long roofline playfully punctuated by innumerable chimneys, each one different. The graceful stair was finally added in 1930, from a drawing by the architect in the Uffizi. Inside, the famous Sala delle Ville contains paintings of all the Medici villas.
Privately owned by the Olmo family, the villa is now used as a hotel and event venue, while the outbuildings are home to the Museo Archeologico Comunale, with Etruscan art found in the area's many tombs, among them a unique censer with two basins and a boat, bronze vases, and a red figured krater painted with initiation scenes, found in a 3rd-century BC tomb. There's a convenient place for lunch on the grounds.
Also in Artimino is an attractive 11th-century Romanesque church, San Leonardo, with three ornate apses in the Lombard style.
Viale Papa Giovanni XXIII, 1, 59015 Artimino
Villa Artimino website
Archaeology Museum Hours Mar-Oct: Mon, Tue, Thu, Fri 9.30am-1.30pm; Sat and Sun 9.30am-1.30pm & 3-5pm. Nov-Feb: Sat and Sun 9.30am-1.30pm & 3-5pm
Adm €4, €2 ages 7-18 and over 65
Museo Archeologico Artimino website
+39 055 8718124