Scarperia
The Town of Knives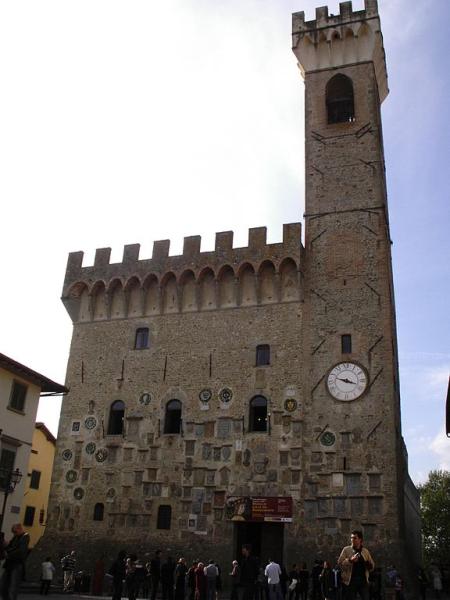 Scarperia, the most charming town in the Mugello, is perched high above the valley that links up to the mountain pass and main road between Florence and Bologna. Florence fortified it in 1306, and laid out its simple rectangular plan, with one long main street.
Beginning the 16th century, Scarperia supplied the duchy of Tuscany with knives, forks and scissors, as well as daggers and swords. In 1900 there were still 46 thriving firms, although machine-made competition has cut into local business, you can still find (expensive) bone- or horn- handled cutlery.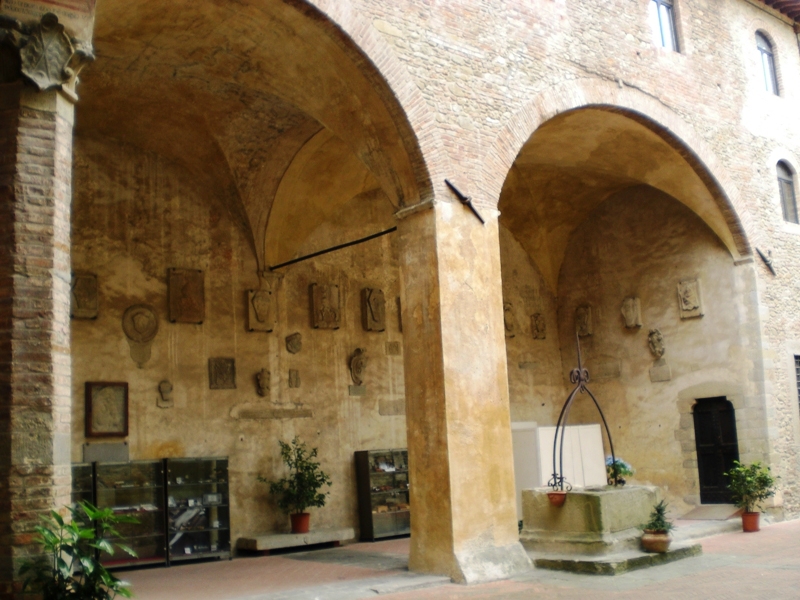 Dominating the town is the crenellated Palazzo dei Vicari, dating from 1306 and so heavily decorated with stone and ceramic coats of arms (every Vicar, or governor, who ever served was obliged to stick on his family's crest) that it resembles a page from a postage stamp album. Its atrium and upper halls have 14th- and 15th-century frescoes, the earliest ones by the school of Giotto; another, Madonna with Child and Saints (1554) is by the school of Ghirlandaio.
The palazzo also houses the Museo dei Ferri Taglienti, a small museum dedicated to the town's knife-making and cutting tools. Part of the museum includes a recreation of an old knife-making workshop, the Bottega del Coltellinaio.
Near the Palazzo dei Vicari are two churches, worth popping into if they're open. The oratory of the Madonna di Piazza, where the Vicars took their oath of office, has an attractive Renaissance front and a fresco of the Madonna and Child, attributed to Jacopo del Casentino (d. 1358), who may have spent time in Giotto's workshop. The second church, the Propositura, houses some fine Renaissance works: a tabernacle by Mino da Fiesole a crucifix by Andrea Sansovino and a roundel by Benedetto da Maiano.
Another church (probably closed) is the Oratorio della Madonna dei Terremoti, dedicated to Our Lady of the Earthquakes on the road to Sant'Agata.
The Musei Sant'Agata
The Mugello's most fascinating relic, 4km northwest of Scarperia, is the 12th-century parish church of Sant'Agata, one of the most important Romanesque buildings in Tuscany. Restored after an earthquake in 1919, its austere exterior is brightened by a striking chessboard on the side.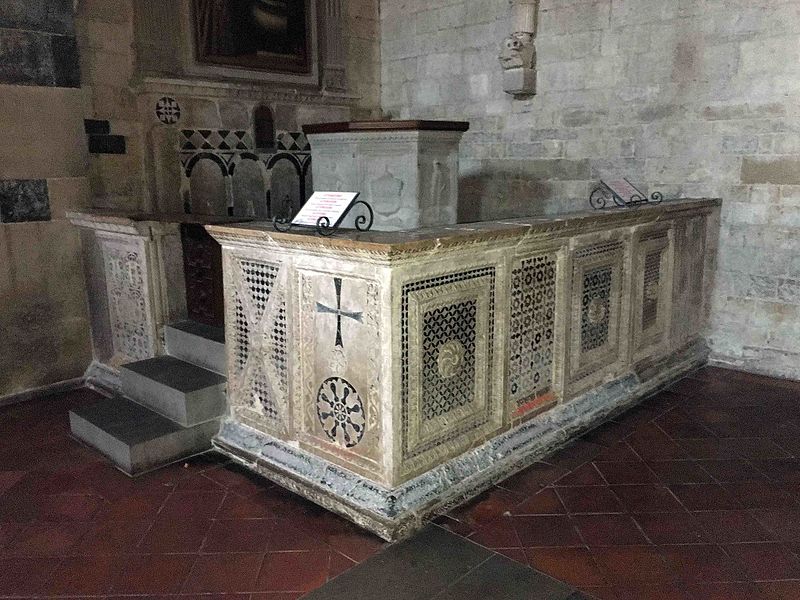 Inside, it has a ship's keel roof and a squat pink marble figure of St Agatha from the workshop of Nicola Pisano. The three naves culminate in n unusual apse and a pulpit dating from 1175, decorated with white and green marble intarsia designs and animals. There are a number of early 17th-century paints by Simone Sacchettini, and to the right of the altar, a Madonna and Child by Iacopo di Cione (1383).
Next to the church is a small museum of sacred art taken from Sant'Agata and other country churches in the Mugello; highlights include Bicci di Lorenzo's painting, The Mystical Marriage of St Catherine, the only known painting of an artist named Nicholaus, from 1345, works by Andrea della Robbia and Giovanni della Robbia and a beautiful bronze Croce Astile, attributed to the workshop of Andrea and Nicola Pisano.
A second museum, the Centro Documentazione Archeologica houses prehistoric to early medieval finds from the Mugello and includes a reconstruction of a Palaeolithic hunter's shelter, and huts from the Bronze and Iron Ages.
For all that, Scarperia is probably known these days for the Autodromo Internazionale del Mugello, a 5km track built by Florence's Auto Club in 1976, which sounds ghastly but is fairly well hidden in the hills east of town. It is also famous for La Marzocco coffee machines, made in the town since 1927 and named after the symbol of Florence; tours of the factory, at the Frazione La Torre, are offered week days at 10.30 am if you book at least a week ahead.
Palazzo dei Vicari and Museo dei Ferri Taglienti Hours June-Sept Wed-Sun 10am-1pm and 3.30-7.30pm. Oct-May Wed-Fri 10am-1pm, Sat and holidays 10am-1pm and 3-6.30pm.
Scarperia Tourist Office +39 055 8468165
Musei Sant'Agata Hours Apr-Oct Sun and hols 4-7pm; Feb, Mar, Nov Sun and hols 3-8pm. To visit the church on weekdays, ring the keyholder, Signora Anna +39 055 8406985