Lo Scoppio del Carro
Easter with a Bang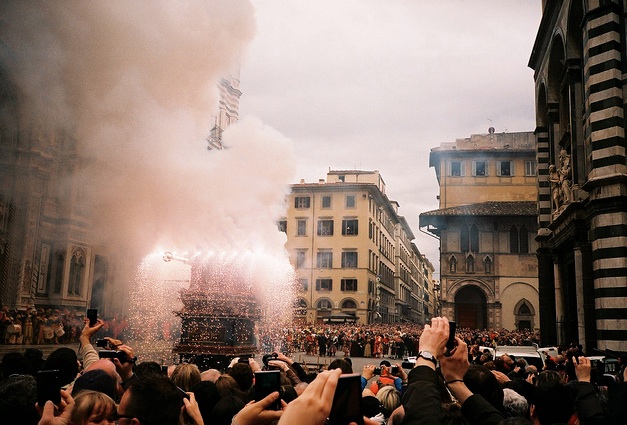 Celebrating Easter with a bang is the oldest living tradition in Florence.
Lo Scoppio del Carro (the 'explosion of the Cart') goes back to the thousand-year old custom at Easter of re-lighting all the city's lamps and hearths with holy fire, sparked by flints that were supposedly chipped off the Holy Sepulchre in Jerusalem (and are now kept in the church of SS. Apostoli). The flints were struck to light the Easter Candle, which in turn would light a pot of embers and coals to be delivered by an ox-drawn cart (the brindellone) to all the households in Florence, starting with the Pazzi family, whose ancestor, according to legend, was awarded the sacred flints for his bravery in the First Crusade.
In 1494, the Florentines began to liven up the proceedings by loading pyrotechnics on the cart. The Medici Pope Leo X introduced a rocket in the shape of a dove (the colombina) symbolizing the Holy Ghost, which at a key moment in the Easter Mass descends on a wire from the Cathedral altar to ignite the firework-packed cart, which over the years became more and more elaborate until it reached its current 30-foot height in the 17th century.
Where and When
The Scoppio del Carro takes place Easter Sunday, starting at 8.15am with the departure of the brindellone, drawn by four white oxen decked in garlands of spring flowers, accompanied by soldiers, drummers and other notables in traditional 15th century costume. The route follows Via il Prato, Borgo Ognissanti, Piazza Goldoni, Via della Vigna Nuova and Via Strozzi before entering Piazza della Repubblica.
At 9am, a second procession of civic bigwigs leaves from Piazza della Signoria, pausing at SS. Apostoli to collect the holy fire. They meet up with the historical procession in the Piazza della Repubblica, with drums and flag throwing Bandierai who then join the procession down Via Roma and at around 10.30 enter the Piazza del Duomo, where the crowds await in front of the Cathedral.
At 11am, during the Easter Mass chant of Gloria in excelsis Deo, the Archbishop blesses the Easter candle and lights the colombina at the altar; it zooms on its wire down the length of cathedral and out the door, colliding with the cart and igniting it before shooting back to the altar, setting off 20 minutes of ear-splitting bangs, fire crackers, Roman candles, Catherine wheels and clouds of red and white smoke while the bells in Giotto's campanile peel madly away.
And if all the above happens without a hitch, it bodes well for the harvest and fortunes of the coming year.