Cenacolo di Sant'Apollonia
Andrea del Castagno's Last Supper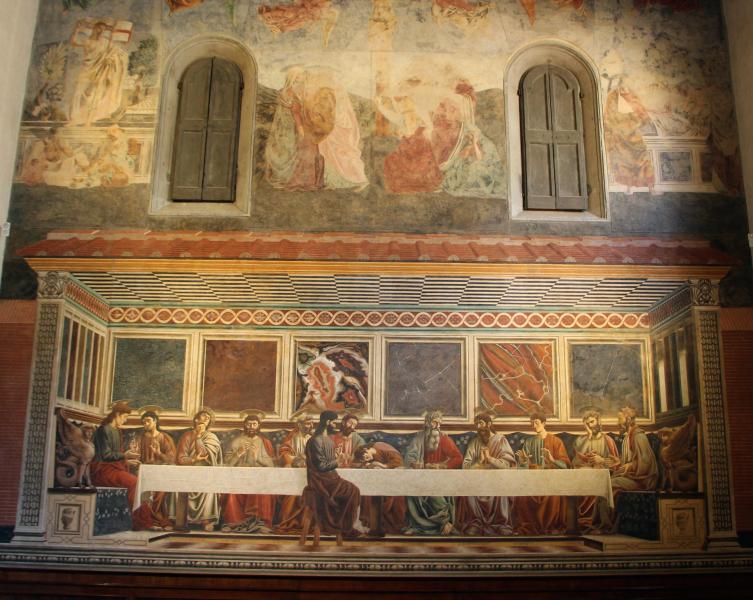 Cenacoli, or frescoes of the Last Supper, were de rigueur in monastic refectories; in several cases the Last Supper fresco is all that remains of an entire complex. Until 1860, the Renaissance convent of Sant'Apollonia was the abode of cloistered nuns. When the convent was suppressed, and the fresco discovered under coats of whitewash, the critics believed it to be the work of Paolo Uccello, but have since unanimously attributed it to Andrea del Castagno (1447).
The Uccello attribution derived from the Cenacolo's striking perspectivist effect, a recreation of an ancient dining hall according to the writings of Alberti, and solemn portraits of twelve very pensive-looking Apostles whose minds are definitely not on their dinner.
Now a museum, the building also contains the sinopie of the once famous fresco cycle in the church of Sant' Egidio on the life of the Virgin by Domenico Veneziano, Alessio Baldovinetti and Andrea del Castagno, all ruined in an insane 16th-century renovation.
Via XXVII Aprile 1
Hours Daily 8.15-1.50pm; closed the 2nd and 4th Mondays and 1st, 3rd and 5th Sundays of each month
Adm free
polomusealetoscana.beniculturali.it
+39 055 2388608