Museo del Ciclismo G. Bartali
Homage to a Hero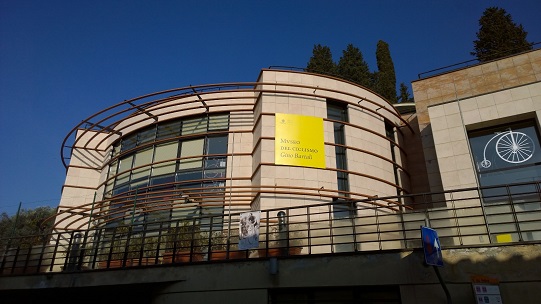 Champion rider Gino Bartali (1914-2000) was born in tiny Ponte a Ema and became a Tuscan cycling legend both before the Second World War, winning the Giro d'Italia 1936 in 1937 and the Tour de France in 1938, then after the war when he won the Giro d'Italia in 1946 and the Tour de France in 1948. Bartali was especially impressive in the mountains. Seven times he was crown 'King of the Mountains' in the Giro. In 1948, he won three mountain stages in a row, a feat that was never been unequalled in the Tour de France.
During the war, Bartali was such a hero that would ride through central Italy in his jersey, delivering messages for the Resistance. He was taken to the notorious Villa Triste on Via Bologna, headquarters of the Fascist militia and warned, but he was too famous to seriously threaten. Every morning, pretending to train, he would ride to the Olbate convent near Lucca where the Franciscans hid Jews, delivering messages back and forth, a fact that only emerged after his death in 2000. In 2010, it came out that he had hid a Jewish family in his basement. In 2013, he was recognized as 'Righteous Among the Nations' in Israel.
The museum has a room dedicated to his career, and another his cycles along with other historic racing bikes, and a room with audio visual displays.
Via Chiantigiana 175, Ponte a Ema
Hours Fri & Sat 10am-1pm, Sun 10am-4pm
Adm Free