Villa Medicea di Cerreto Guidi
Medici Hunting Lodge, Now a Museum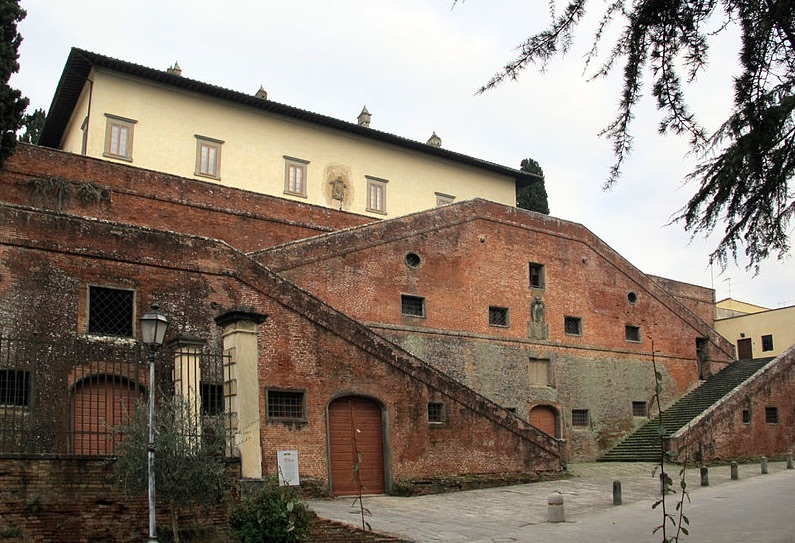 Cosimo I built this hunting lodge in 1556 to be near the game-rich wetlands of the Padule di Fucecchio. Its most elaborate feature, the grand double brick stair ramp leading up to the villa, is attributed to his favourite architect, Bernardo Buontalenti.
In 1576, Cosimo's beloved daughter Isabella, one of the most beautiful and independent women of her time, famous for her patronage of the arts and her parties, was in all likelihood murdered here by her husband, the Roman nobleman Paolo Giordano Orsini, Duke of Bracciano. Six days previously her cousin Leanora had been strangled by her husband—Isabella's brother Pietro—at the Villa di Cafaggiolo.
Isabella, like Leanora, was unhappily married. Rather than move in with her spendthrift husband, her father Cosimo was happy for her (and her dowry) to stay at his side in Florence, where she played the role of first lady of Tuscany after the death of her mother. She did bear Paolo a son and daughter, but as the couple became estranged, she had taken a lover, her husband's cousin Troilo Orsini.
Her position changed after her father's death in 1574, and her grim brother Francesco, the new Grand Duke, may well have connived at her death; he reported that Isabella suddenly dropped dead while washing her hair. Most historians believe Paolo Giordano strangled her. Until recently, her ghost was said to haunt the villa.
As a coda to the story, Paolo Giordano fell in loved with Vittoria Accoramboni, who at the time was married to a nephew of Cardinal Motalto. Giordano had him killed; the then Pope Gregory, believing Vittoria was responsible, had her sent to the Castel Sant'Angelo. After the pope's death and election of Sixtus V, the couple made their escape from Rome and married. Paolo died eight months later, leaving his fortune to Vittoria, and when the Medici contested the will and she refused to hand over the dough, they knocked her off. The story inspired John Webster's play The White Devil (1612).
Inside are portraits of the Medici (including ones of Isabella and Paolo Giordano) and some original frescoes and antique furnishings from the Bardini collections) as well as the Historical Hunting and Territorial Museum, with weapons going back to ancient times.
Via dei Ponti Medicei 7, Cerreto Guidi (take the train from Florence to Empoli, then take a LAZZI or COPIT bus for Cerreto Guidi).
Hours Daily 8.15am-7pm. Closed second and third Monday of the month.
Adm Free
+39 055 294883