Villa Medicea di Cafaggiolo
The Original Medici Villa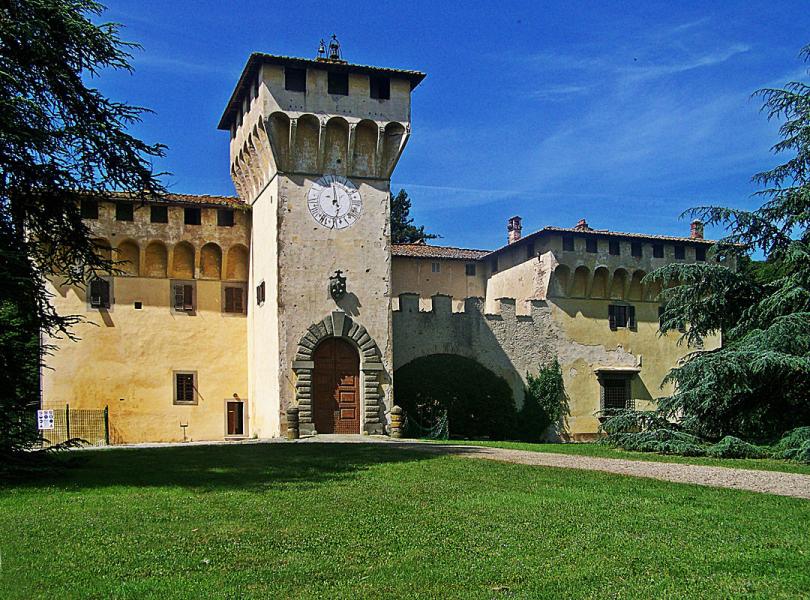 Villa Cafaggiolo, just west of San Piero a Sieve, was owned by Averardo de' Medici, father of Giovanni di Bicci, the founder of the dynasty's banking fortunes. It was a favourite of Giovanni's son Cosimo il Vecchio, who had his favourite architect Michelozzo expand and transform it into an imposing castellated villa.
Today the entrance protected by a bulging tower, adorned with an incongruous clock. In the series of lunettes of Medici villas painted in 1599 by Gustav Utens (now in the Palazzo Vecchio, the villa originally sported an even taller central tower, similar to the one at Villa La Petraia. An irrigation system enabled the Medici to eventually add fountains and other water features to the gardens, and to plant the ultimate Tuscan luxury, a green lawn.
Cafaggiolo's cool halls would always be a popular family retreat. Lorenzo de' Medici spent as much of the summer as possible in its cool halls, invited his humanist friends to hang out, and wrote his poetry and songs.
An Infamous Murder
In 1576, the villa witnessed the first of several murders involving the unhappy and often nasty offspring of the Grand Duke Cosimo I. Cosimo had arranged an unhappy marriage between his cruel, mentally disturbed youngest son Pietro and his wife's beloved niece, the lively Eleonora di Don Garzia de Toledo (better known as Leanora) whose mother had died shortly after her birth, and who had been raised in the Medici household as one of their own.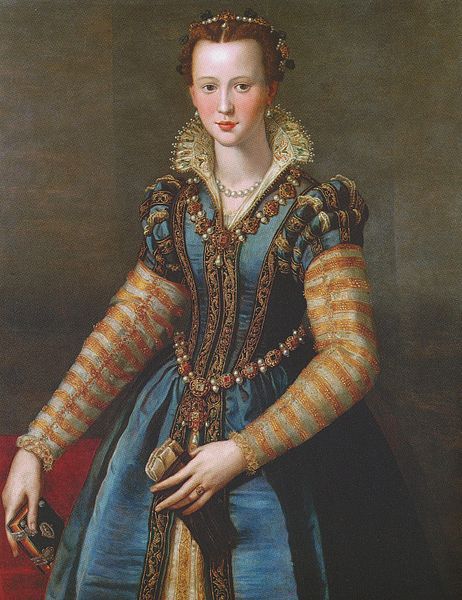 Pietro didn't love or even like Leanora (after their wedding he had to be compelled to consummate the marriage) and the two largely lived separate lives. Leanora, who was close to her cousin and Pietro's sister, the equally unhappily married Isabella, followed her lead in taking lovers. While Grand Duke Cosimo (himself no saint) was alive, he overlooked their indiscretions.
After his death, however, his gloomy son and successor Francesco was less tolerant. When Leanora's lover, Bernardino Antinori, a hero of the Battle of Lepanto, killed another nobleman in self defence, he confessed to the affair was exiled by Francesco to Elba. The scandal might have ended there had not the smitten Antinori posted passionate love letters to his Leanora. When Francesco saw the letters (in spite of publicly conducting his own extramarital affair with Bianca Cappello), he had Antinori assassinated.
Two days later, Pietro ordered his 23-yeard old wife to meet him at Cafaggiolo and strangled her with a dog leash, with the help of his servants. Francesco declared she had had a heart attack, but all Florence knew the truth, and eventually Francesco confessed to the outraged Philip II of Spain (upon whose good graces the Tuscan Grand Dukes owed their authority) that his brother had killed her for the sake of honour. The following year Francesco exiled Pietro to Spain, where accumulated huge gambling debts and otherwise continued to be a nasty piece of work until he died in 1604.
Six days later, Isabella de' Medici met the same fate as Leanora at the Villa di Cerreto Guidi, apparently with Francesco's approval. Not too many tears were shed when Francesco himself and Bianca Cappello were poisoned by his brother at the Villa Medicea di Poggio a Caiano.
While the Medici sold off many of their other villas over the next decades, they held onto this one until the end, when after the death of Gian Gastone de' Medici it was taken over by their Hapsburg-Lorrain successors and then by the Italian government.
In 1864, the villa was sold to Marcantonio Borghese, who removed many of the medieval features. Today a business consortium owns it and hires it out for conventions, films and weddings.