Food and Drink
In the Land of the Bean Eaters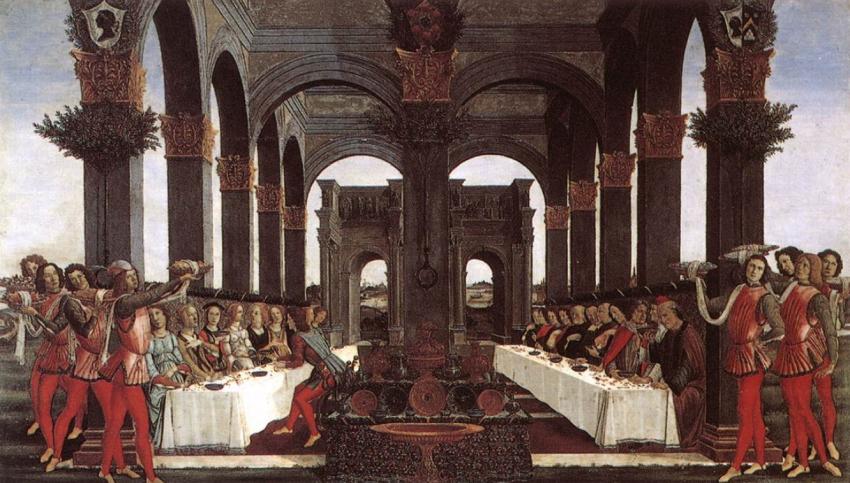 Like many sophisticated cities with many visitors, Florence has many fine restaurants and many not so good touristy ones along the main streets.
The Medici may have put on some legendary food bags in their time (Catherine de' Medici, they say, introduced peas to Paris and taught the French how to cook when she married Henri II) but in more recent times Florentines and Tuscans were known by their fellow Italians as the Mangiafagioli, or bean eaters. Some say it is part of their famous austere Tuscan character. Others say it's a sign of their alleged miserliness (they don't even put salt in their bread, although they will insist to a man and a woman that's how they like it).
But it is true that beans as well as tripe often feature on the traditional Florentine table, the former in ribollita, a chunky soup made with yesterday's bread and Tuscan black kale, the now trendy cavolo nero, or fagioli all'uccelletto (with garlic and tomatoes) or fagioli in fiasco (with olive oil and black pepper, simmered in a terracotta pot). Other classic starters include crespelle alla Fiorentina (crepes stuffed with spinach and ricotta, and baked in béchamel sauce). One for the bold is cibreo, made with cockscombs and chicken livers, although the famous restaurant of the same name is one of the few to serve it.
The classic secondo or main course, is a proper bistecca alla fiorentina, a 2-inch thick steak on the bone from the huge white Chianina cattle raised near Cortona, and grilled over a lively flame for just a few minutes; a proper one will be rare and meltingly tender. Many say the place to try it is at the restaurant of the famous Dante quoting butcher, Dario Cecchini, in Panzano in Chianti.
Peposo alla fiorentina is a classic cucina povera dish, invented in Impruneta in the Florentine hills with rich clay soil, by the fornaciai (furnace workers) while baking the terracotta tiles for Brunelleschi's dome. In the morning they would toss the ingredients in a terracotta pot, put in a corner of the oven, and by lunch time, hey presto it was ready. Did the Tuscans invent slow cooking? Like their classic fagioli in fiasco, peposo takes time—in general five hours.
Seafood dishes include seppie in zimino (cod or squid with spinach, herbs and onions), a dish once especially during Lent and baccalà alla fiorentina, salt cod with tomatoes, onions and rosemary. Favourite side dishes include spinach alla fiorentina (sautéd with garlic) or piselli alla fiorentina (peas with garlic and pancetta).
The classic dessert, of course, is or gelato, invented by Florence's own Bernardo Buontalenti.
The classic wine to quaff with all of this, of course, is Chianti; finish up with a glass of strong, sweet vinsanto with hard cantuccini biscuits for dunking.