Torre San Niccolò
Piazza Poggi and the Arno Beach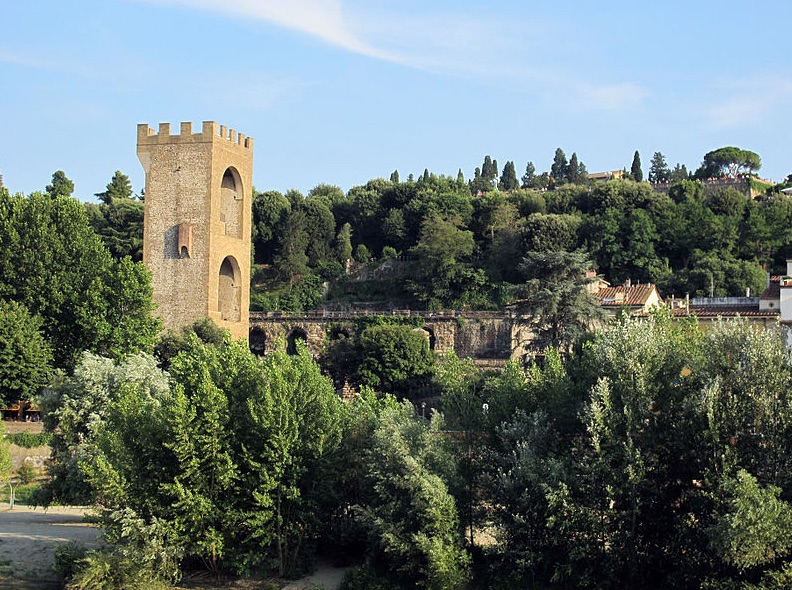 The tallest surviving gate and tower of the ring of walls built around Florence in 1324, the 60m/200ft Torre San Niccolò may have been designed by Orcagna.
It was the only tower in the walls not given the chop in 1529 when the armies of Charles V (newly allied with the cowardly Medici Pope, Clement VII) attacked the republic of Florence, because of Michelangelo's clever idea of turning San Miniato, the hill overlooking the tower, into a gun fort controlling the surrounding countryside. It prevented the troops of Charles V from immediately taking the city, pinning them down instead as Florence managed its last heroic but doomed fight for independence.
The distinctive square battlements of the Guelphs, echoing those of the Palazzo Vecchio were added in the 1800s. The lower arch has a 14th-century fresco of the Madonna and St Nicholas and John the Baptist. It has charming views over the city as it contemplates its shorter counterpart, the Torre della Zecca on the right bank of the Arno.
Next to the tower, a tall pietra serena pedestal supports Giò Pomodoro's homage to Galileo, the bronze Sole per Galileo Galilei (1997).
Piazza Poggi and Arno Beach
The square under the tower is a favourite summer hang out, with outdoor bars, fountains and grottos. On the south side, the Rampe del Poggi, designed by 19th-century urban planner Giuseppe Poggi ascends to the splendid balcony of Piazzale Michelangelo.
On the Arno side, just over the Lungarno Serristori, the Spiaggia sull' Arno or Arno Beach is Italy's largest urban beach, which opens between late May and until 15 September. On hot days this is one of the coolest (in both senses of the word) places in the city, with lounge chairs, a snack bar, a special play area for kids, and sports (bocce, stand-up paddle boards and rugby matches), concerts in the evening and yoga on Wednesdays from 7.30-8.30pm, and live music at sunset on Thursday, Fridays and Saturdays.
Piazza Giuseppe Poggi
Hours daily 4-7pm
adm €4, free for under 18s
+39 055 276 8224