Giuseppe Poggi
The Baron Haussmann of Florence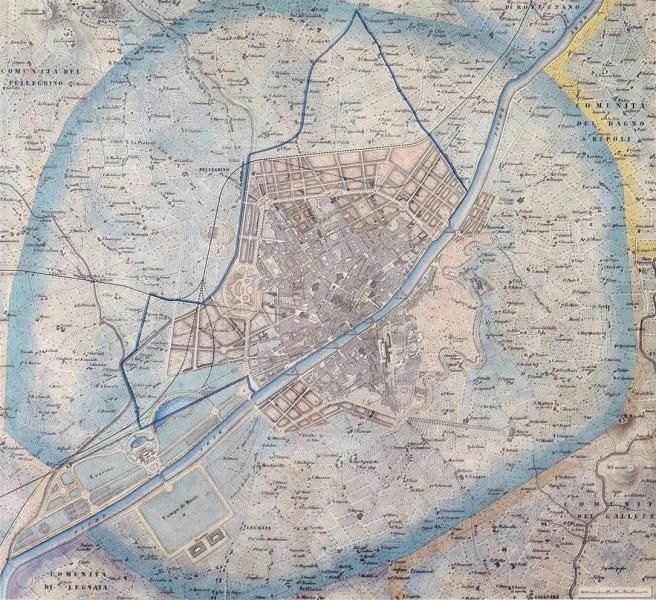 Until it became the capital on February Italy 3, 1865, Florence had been happy to muddle along picturesquely inside its city walls, little changed since the Middle Ages. Its new status and newly arrived King Vittorio Emanuele II, however, made the inadequacies of its fabric all too apparent. Previously the government had been in Turin, a rational relatively up-to-date Baroque grid of a city. Florence was picturesque but terribly out of date. A flood in 1844 had wrought serious damage.
The movers and shakers decided to embark on a thirty year modernization plan called the Risanamento di Firenze, the 'Restoration of Florence' and chose architect and engineer Giuseppe Poggi (1811-1901) to mastermind the project. A native Florentine, Poggi was respected for his not-too-radical Neo-Renaissance style (among other projects, he had deftly added on the extra period rooms for Frederick Stibbert's growing horde of baubles, and rearranged the gardens of the Orti Oricellari).
And the Walls Came a-Tumblin' Down
Risanamento is not restoration as we know it today. In fact it meant a lot of destruction (Florentine detractors quickly dubbed it the sventramento or ruining). Poggi knocked down the walls north of the Arno and Haussman-style, replaced them with tree lined boulevards, the viali di Circonvallazione to allow the city to grow into new middle-class neighbourhoods he designed (Pignone, Piagentina, San Jacopino and Piazza Savonarola), for all those government employees and courtiers, never suspecting that 150 years later they would be traffic-clogged nightmares.
Poggi, however, let the old gates stand as souveniers: see the Torre della Zecca and Torre San Niccolò. Here too you can see Poggi's efforts to protect the city from flooding by building walls along the Arno, and topping them with the Lungarno boulevards.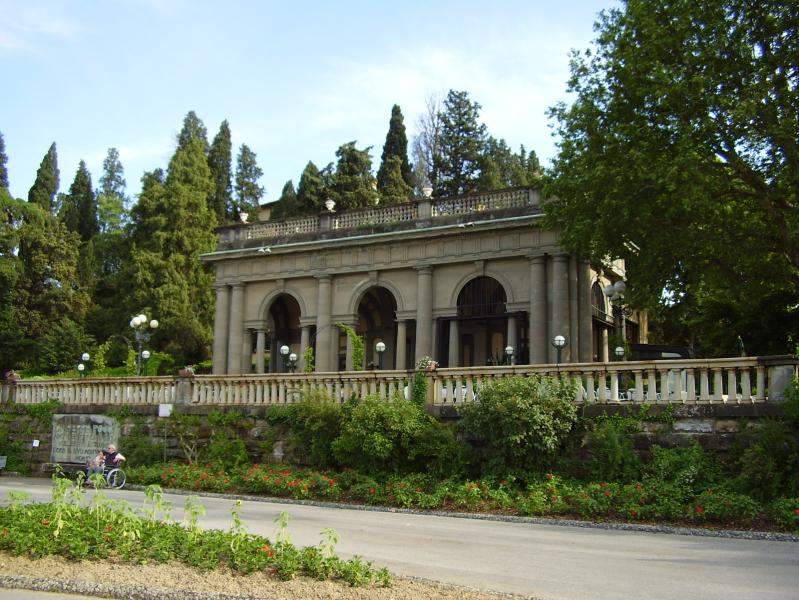 On the Oltrarno, he also built Viale del Colli (now Viale Michelangelo) and designed the much-loved Piazzale Michelangelo with his pretty loggia. At the time Florentines at the time were not all that impressed, and complained about the expense.
Poggi planned for three new covered markets, although only the Mercato Sant'Ambrogio and Mercato San Lorenzo were built. He designed the pleasant Piazza Demidoff. demolished buildings behind the Palazzo Vecchio, and straightened streets in the city centre such as Via de' Calzaiuoli and Via de' Tornabuoni, and removed buildings around the cathedral to create the current appearance of the Piazza del Duomo. Straight Via Sant'Agostino was drilled between the Palazzo Pitti and Piazza Santo Spirito.
But he also, sadly, tore out the picturesque heart of the Florence, the Mercato Vecchio and the recenty closed ghetto and replaced them with the big soul-less Piazza della Repubblica, originally dedicated Vittorio Emanuele II, who five years after the Risanamento moved Italy's capital to Rome.