Art & Architecture: Baroque and the rest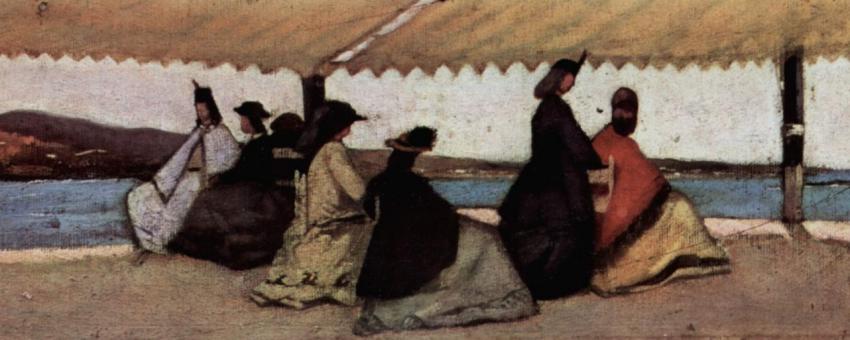 In the long, dark night of later Florentine art a few artists stand out – the often whimsical architect and engineer Bernardo Buontalenti; Pietro Tacca, Giambologna's pupil with a taste for the grotesque and the more conventional court sculptor, Giovan Battista Foggini; the charming Baroque fresco master Pietro da Cortona; the very pious Carlo Dolci and the strange Francesco Furini. Gherardo Silvani even introduced some Roman Baroque in church of San Gaetano, but it looks overwrought and guilty of trying too hard in Florence.
You can visit the Villa Corsini a Castello or the Museo di Casa Martelli to see how the upper crust lived in Baroque times, and perhaps hear some Puccini in the latter.
But Florence, for the most part, chose to sit out the Baroque, the Rococo and Neoclassical so we can race up to the 19th century for the delightful 'Tuscan Proto-Impressionists' or Macchiaioli ('Splatterers') and the best collection is in the Museo d'Arte Moderna of the Pitti Palace). They documented the last days of old Florence, before the city irrevocably changed under the direction of its own version of Baron Haussman, Giuseppe Poggi; see the collection in the Palazzo Vecchio.
The 20th century has recently been given its own museum as well, the Museo del Novecento where you can learn all about the local futurists and much more, and Ottone Rosai, the master of the quiet Florentine countryside; the works of another local, Primo Conti, Fondazione Primo Conti, might beckon you to Fiesole, while the Villa Bardini museums feature works by Florence's Realist painter, Pietro Annigoni, and fashions by Roberto Cappucci (appropriately, because in the city that made its bundle early on in wool and silk, is still a heavy hitter in the industry, the home of Gucci, Pucci, and a Neapolitan transplant who has his own museum as well, the Museo Salvatore Ferragamo.
In this century, the creation of a new Park of Music and Culture on the city end of the Parco delle Cascine has seen the renovation of the Stazione Leopoldo as an exhibition hall and new Teatro dell'Opera with more promised in the future. Stay tuned.