Castello di Brolio
The Vines of the Iron Baron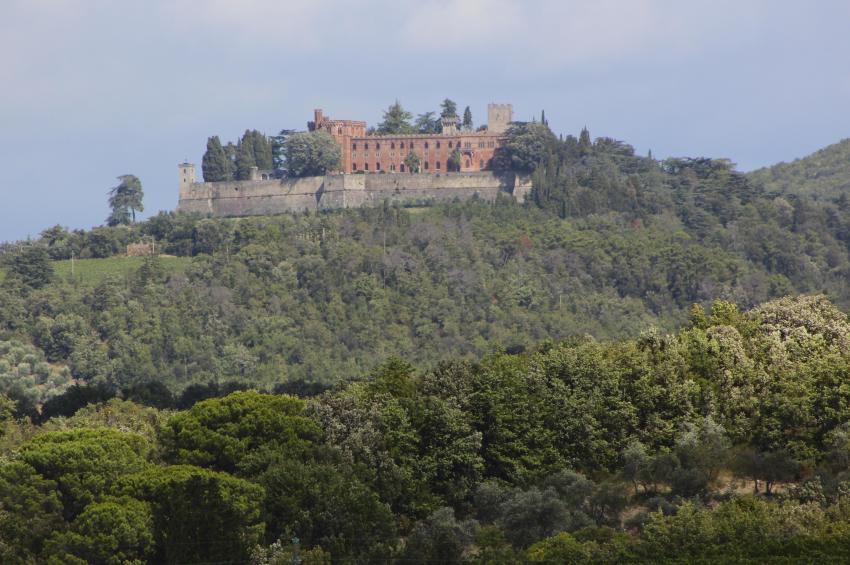 Most majestic of all the castles around Gaiole in Chianti, the Castello di Brolio is located some 10km south of along the SS484, isolated high on a hill with views for miles around. Donated to the monks of the Badia Fiorentina in 1009 by Matilda of Tuscany's father Bonifacio, it passed to the Ricasoli in 1167. Located on the border of Florence and Siena, it was often on the front lines,
In 1478 the castle was bombarded for weeks by the Aragonese and Sienese, who later demolished it so 'the walls levelled with the earth'. Florence rebuilt it, and in the mid-19th century, Bettino Ricasoli (1809-80) who inherited it, converted the family seat into a splendid fortified Noe-Gothic residence. It still bears the marks of an artillery attack in the Second World War.
The baron earned his nickname through his iron-clad integrity. Luigi Barzini, in The Italians, recounts how jealous he became when a young man asked his new bride to dance at a ball in Florence. Ricasoli at once ordered his bride into their carriage and ordered the coachman to take them to the Castello di Brolio. The poor woman rarely left ever after.
To pass the time Ricasoli began to experiment with different vines and processes, eventually hitting upon a pleasing mix of red Sangiovese and Canaiolo grapes, with a touch of white Malvasia, twice fermented in the old Tuscan manner. Meanwhile, the famous dark green flask was invented, the strapeso, with its straw covering woven by the local women. Chianti wine as we know it was born.
At the same he was becoming deeply involved in Risorgimento politics from his city base, the Palazzo Ricasoli in Piazza Goldoni, and twice served as Prime Minister (in 1861-62 and 1866-67), resigning both times out of iron-clad principles. His ghost has been seen stalking the castle grounds.
Today his descendant, the current Baron Franesco Ricasoli, still resides at the Castello di Brolio run the largest (1200 hectares) Chianti Classico estate, offering tastings and tours, a restaurant and agriturismo stays at a nearby 18th-century farmhouse, as well as the Museum-Ricasoli Collection, with family weapons, items relating to the Iron Baron's life and his fossil collection. The beautiful Renaissance gardens and English park have stunning views over Chianti all the way to Siena.
Madonna a Brolio, Gaiole in Chianti
Hours Museum Ricasoli Collection: Guided tours every 30 minutes, Tues-Sun 10.30am-12.30pm and 2.30-4pm. €8 with the gardens and a wine tasting. Gardens: late Mar-Oct 10am-6.30pm, €5 (gardens only).
There are a wide variety of tours that you can book online. The two-hour Classic Tour (€25) with a private wine tasting runs daily at 10.30am except Mon and Thurs and at 3pm Mon, Thurs, Fri from March to June.
+39 0577 7301