Francesco Guicciardini
Renaissance Historian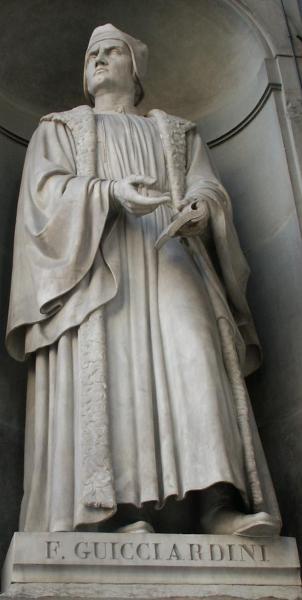 Since there is nothing so well worth having as friends, never lose a chance to make them.Guicciardini
Stateman, diplomat, humanist and historian Francesco Guicciardini (1483-1540) was born into his role. A member of one of Florence's great patrician families, he was the son of Piero Guicciardini, a student of Marsilio Ficino, who also became Francesco's godfather.
He studied law in Padua, and in 1508, when he married, began writing a history of his family and a History of Florence for his own pleasure. He soon attracted attention for his intelligence and judgement and was appointed by the Signoria to serve as an ambassador to the Court of Aragon in 1512— a great honour for one so young. It also helped Guicciardini's career that he was away from Florence when the Medici returned to power, and avoided the ostracism suffered by his friend Machiavelli.
When Lorenzo il Magnifico's son Giovanni became Pope Leo X, opportunities opened up for ambitious members of the Florentine elite. Guiccardini served as governor of several cities in Emilia-Romagna, then Councillor to the next Medici Pope, Clement VII and his representative in Florence. In 1527, he managed to keep the rebel Imperial army from attacking Florence; instead, the army sacked Rome.
The History of Italy
Guicciardini supported Cosimo I as Grand Duke, but when Cosimo excluded him from power, he retired to his villa in Arcetri and wrote the book that would make him famous, the twenty volume Storia d'Italia, the most important contemporary history of the period, starting with the French invasion of 1494 and ending with the death of Clement VII forty years later.
He was the first historian to use government records to back up his statements. His own extensive experience with Italian rulers, whose characters he analyzed with keen psychological insights, made him realize that their personal passions and foibles made history unpredictable. He was also very aware of his ownevolvingchanging opinions and reactions to events, and wrote a series of maxims on human nature that were later published as Ricordi.
Published after his death in 1561, the Storia d'Italia was immediately recognized as a masterpiece and translated into Latin, English and other languages. Francesco de Sanctis wrote of it: 'If we consider intellectual power, it is the most important work that has issued from an Italian mind.' Gradually his other writings, such as the History of Florence, were published as well, but none equal the book he wrote for posterity.