Marsilio Ficino
Priest, Philosopher and Platonist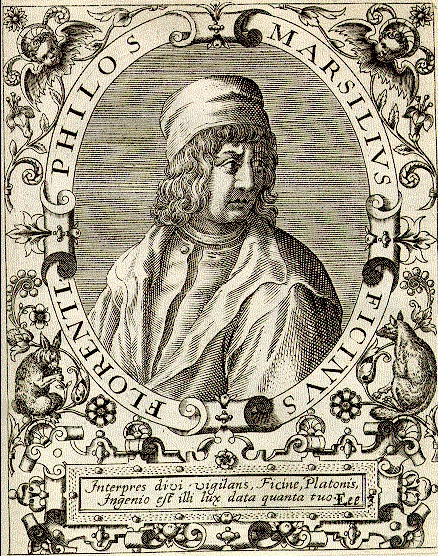 Never worry about anything. Live in the present. Live now. Be happy.Marsilio Ficino
Scholar, priest, humanist, astrologer, magician, musician, vegetarian Marsilio Ficino (1433-99) was the leading light of the Renaissance version of Neo-Platonism. His translations of Plato from Greek to English would change the history of thought in the western World
Born in Figline Valdarno to Diotifeci Ficino, a physician favoured by the elder Cosimo de' Medici. Marsilio studied the humanities and medicine and himself quickly became a favourite of Cosimo, part of the Medici household as the tutor of both Cosimo's grandson, Lorenzo the future il Magnifico, and Pico della Mirandola. He studied Greek with John Argyropoulos, who stayed on the city after the Council of Florence (1438–45).
In 1462, Ficino became the head of Cosimo's new Platonic Academy at the Villa Careggi and the following year, at Cosimo's request, began the translation of all of Plato's Dialogues into Latin (1463-69), introducing the Western world directly to Plato for the first time.
Ficino was struck by the similarities in the Platonic and Christian concepts of the soul and followed it up with his own philosophical musings on the immortality of the soul in the Theologia Platonica de immortalitate animae (*Platonic Theology or On the Immortality of Souls). He believed in the unity of Classical and Christian thought, and was one of the very first to look at it in the history of older religions.
He later translated the works of the Neoplatonist Plotinus (1484-92), introducing them to the West for the first time, as well as the Hymns of Orpheus and the gnostic Hermetic writings of 'Hermes Trismegistus' On the Divine Wisdom and the Creation of the World, which he believed were far more ancient than they really were, a belief that would give rise to all sorts of mumbo jumbo into the 17th century. Not seeing any contradiction between Christinity and the Classics, he delved into astrology and magic and talismans incorporated its ideas into his medical training, writing several practical treatises (most famously, De triplici vita, the Three Books of Life) on healthy living, on the unity of the micro- and macrocosmo. He invented the concept of platonic love.
Although Ficino became a priest in 1473 and was given a post by his lifelong friend and protector, Lorenzo de' Medici, his beliefs and writings got him into hot water with the Church. In 1489 he was accused of magic before Pope Innocent VIII and just managed to avoid being condemned for heresy.