andouillette
tripe or chitterlings sausage

Troyes is the capital of andouillette, or tripe sausage, although it is also made in Lyon, Cambrai and Chablis.
To put it mildly, andouillette is an acquired taste: many who willingly, even gleefully indulge in the joys of French offal draw a red line at stinky andouillette, made of roughly chopped pork intestine, onions, wine and other seasonings, all stuffed into the colon of a pig. In many areas, such as Lyon, they also throw in some fraise de veau.
Many love it. In the 16th century, when soldiers of the royalist army attacked Troyes, they were distracted by the smell of the local offal. They suspended their attack to feast on andouilles as they were called then. The soldiers let their guard down and were massacred by the locals before they had even finished digesting—which admittedly takes quite a while.
They are usually served hot, pan fried or grilled, with onions and wine sauce. One exception to the rule is the grenier médocain.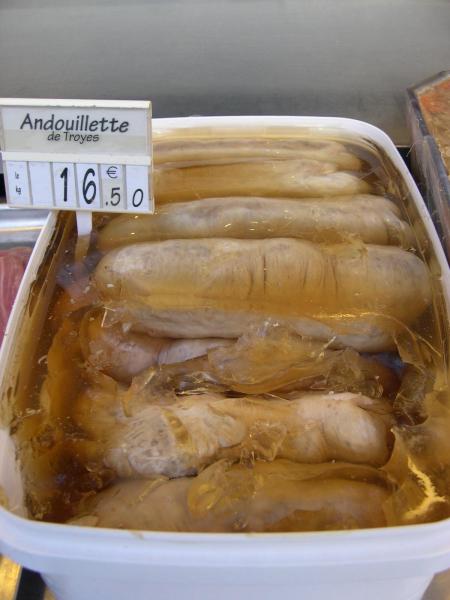 In 1960, the AAAAA (Association Amicale des Amateurs d'Andouillette Authentique) was founded to ensure their quality, giving certificates to worthy producers.