hachis parmentier
shepherd's pie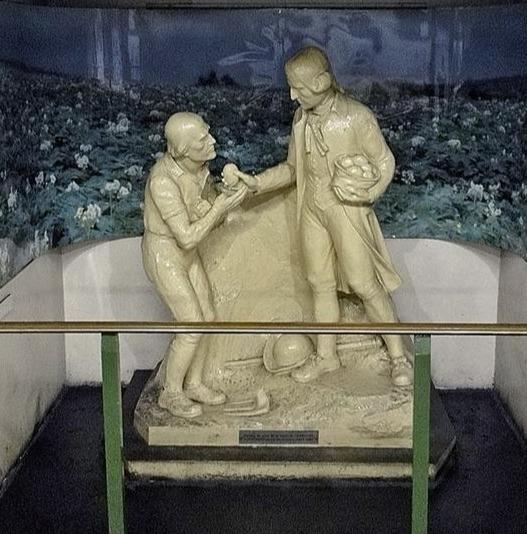 Ground beef mixed with onions and topped with a layer of puréed potatoes, then baked, is hachis parmentier in its most basic form today, but it's also a traditional way to chop and use up any leftover pot au feu. Not only hachis, but any dish called parmentier means it is made with or accompanied by potatoes.
Monsieur Potato
When the French first met the potato it must have been one of the roundish reddish ones, because they called them pommes de terre (earth or ground apples, literally) and fell in love with them.
The cupid in this enduring romance was Antoine Augustin Parmentier (1737-1813), a pharmacist, agronomist and nutritionist who ate his first potato in a Prussian prison when he was captured in the Seven Years' War and became convinced it would help alleviate famine among the poor.
Potatoes, introduced from the New World, were originally considered poisonous because the plant is related to the deadly nightshade. Although they had been grown and eaten in Italy and in parts of France by the late 16th century, they were actually banned in Paris and northern France by an acte de Parlement.
Parmentier extracted the starch from the potato to prove it was good for you, and made bread out of potato flour, and held dinner parties featuring potatoes inviting VIPs, including Benjamin Franklin. Louis XVI actively promoted potato eating; had his subjects listened, the Revolution might never have happened.
Parmentier was awarded the Legion d'Honneur in his lifetime, and posthumously has had his name immortalized in French potato dishes as well as a metro station on Line 3 in Paris.