cuisses de grenouille
frogs' legs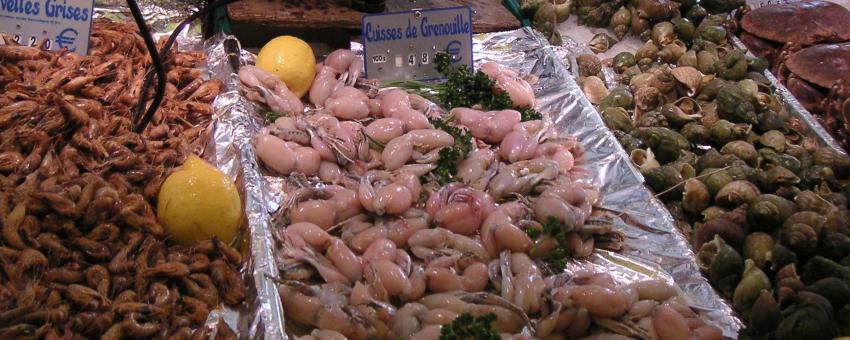 Eating cuisses de grenouille is the reason why Brits call the French 'Froggies', which they really don't seem to mind. Frogs' legs were very popular in the Middle Ages during Lent, after French monks in the 10th century persuaded the pope that frogs were not really meat. And they were abundant, especially in the marshy Doumbes region of eastern France.
Since 1980 frogs have been protected in France, so most of the frogs' legs (the legs are the only edible part of the frog) are imported, mostly from the Balkans and Central Europe or Asia (you can always find bags of frozen ones in the Asian supermarkets).
Like rattlesnake, they taste a lot like chicken, only a bit more delicate. They are usually fried in butter, or marinated and grilled on a skewer and seasoned with garlic and parsley. If the menu says they are grenouilles fraîches, they were imported alive to France.
They like Froschschenkel in Alsace Lorraine, preferably simmered in Riesling.
The British have never liked them, or never ate them because they felt sorry for the poor old frogs. According to the Larousse Gastonomique, the great chef Escoffier, while working in the Carlton Hotel in London did convince the Prince of Wales to eat them by changing the name to cuisses des nymphes aurore ('thighs of the dawn nymphs')!