biscuits roses de Reims
pink biscuits to go with your bubbly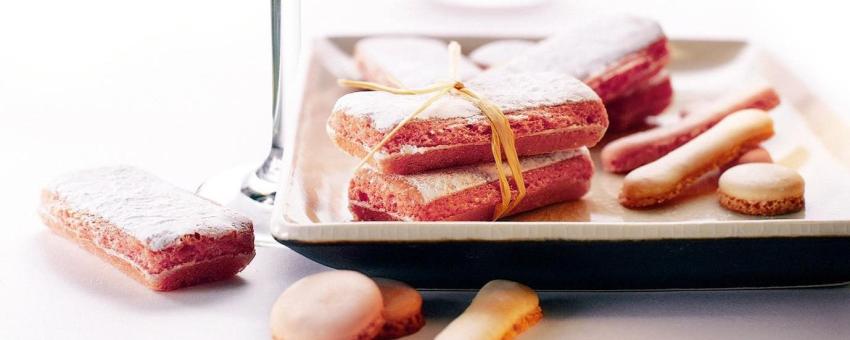 These oblong biscuits, made with flour, eggs and sugar, created in Reims in 1691, were the first biscuits (or cookies) noted in French culinary history.
Bakers in Reims, who had formed a guild back in 1430, sought a way to use the leftover heat in their ovens after baking bread and came up with the recipe for bis-cuits ('twice cooked').
Their first version was white, the second, flavoured with vanilla, tasted better, but when one baker noted they had unsightly patches of brown left by the vanilla bean, he came up with the idea to color them red with natural cochineal dye, and the biscuits roses were born.
Fossier, founded in 1756, has long been famous for its biscuits roses. They were served at the coronation of Louis XVI in Reims, and became the official supplier to the crown.
Because of their pretty colour, they have always been associated with fêtes and that other local product, champagne. These days some people use them as a base for tiramisù or when making a charlotte because they hold their shape, even when moist.