feta
φέτα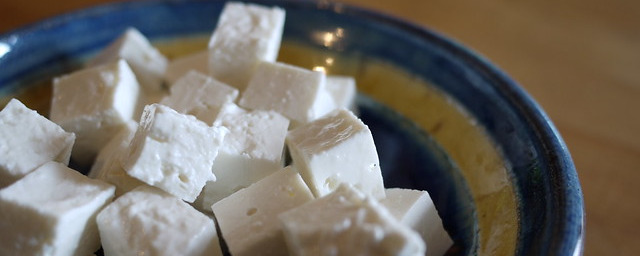 Greece's best known cheese–soft to crumbly salty white ewe's milk cheese aged and soaked in brine– now sold around the world.
Feta literally means 'slice' in Greek, as it's made in big blocks, so at a Greek cheese counter you get to ask for a 'μια φέτα φέτα' (mia feta feta). Other countries around Greece make a similar white cheese but as of 2002 feta been designated PDO (POP) and only Greece can call theirs 'feta' as long as it's it's made with 100 to 70 percent sheep's milk. The other 30% can be topped up with goat's milk.
φέτα μέλι (feta meli) Feta wrapped in filo and baked until crisp and golden on the outside then topped with honey and sesame seeds.
φέτα ψητή (feta psiti) Hot grilled feta with red and greens peppers, used as a dip; similar to bouyourdi