ouzo
ούζο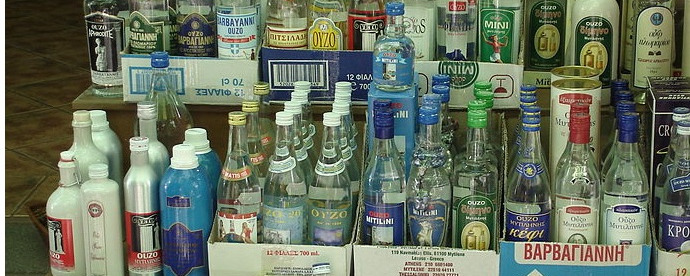 Greece's famous anise-flavoured spirit, which by EU law can only be called 'ouzo' if it's made in Greece or Cyprus.
One version of raki or tsipouro was flavoured with aniseseed and renamed 'ouzo' at some point in the 19th century. The first to commercialize ouzo, in 1856, was the still-going-strong Tyranvou-Katsarou distillery in Thessaly , although much of it today is made on Lesvos around Plomari, which also has an ouzo museum.
It is served in tall glasses, which habitués dilute and cloud with water and sometimes ice (the 'ouzo effect') and sip along with a little plate of nibbles. An ουζερί (ouzeri) is a bar that specializes in them.