krasi
κρασί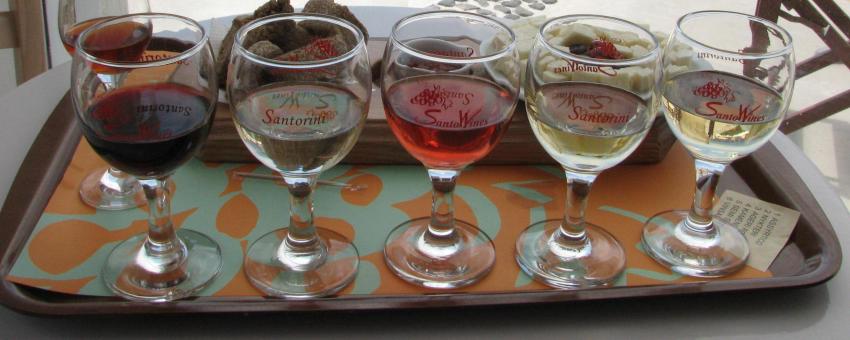 Wine. A big subject that deserves its own app, but here are a few notes and words you may need. Some of the oldest signs of wine-making have been found in Greece, dating back to c. 6500 BC; even so, Dionysos, the god of wine (and theatre, and ecstasy before it became a drug, although he'd probably be the god of that, too) was a johnny-come-lately to Olympus but in many ways he was the most interesting of all the gods.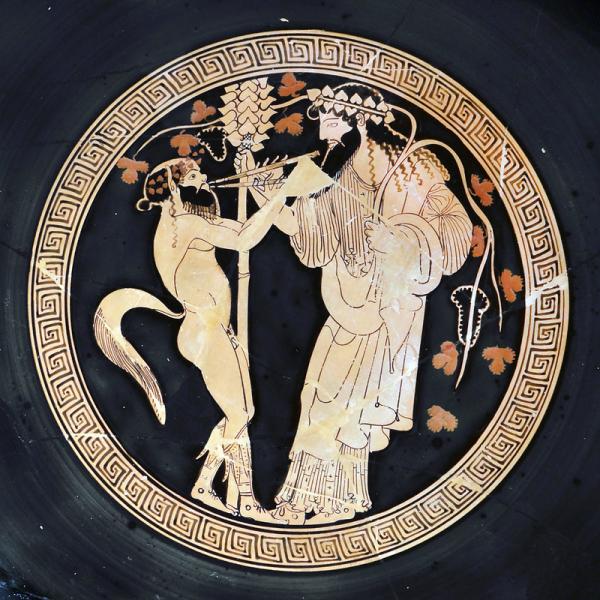 But Greek wine wasn't always interesting. For travellers in the 1960s and 70s, ordering krasi in a taverna usually meant either retsina or not retsina, which would be white or red Demestica from the Peloponnese, which elicited much merriment among British tourists who called it 'Domestos' after the bleach company (it wasn't that bad, and Achaia Clauss still sells it, rather better than it used to be, and exports quite a bit to Germany).
Wine Words
αφρώδης οίνος (afrodis oinos): sparkling wine
βαρέλι (vareli): barrel or cask
χύμα κρασί (chima krasi): loose wine, or house wine (order it by the κιλό (kilo, a litre), or μισό κιλό (miso kilo, half a litre) or τέταρτο (tetarto, 250ml). Always start with the latter if you're not sure about it. If it's red, it may well be chilled in the summer.
εισαγόμενο κρασί (eisagomeno krasi): imported wine
ενισχυμένο κρασί (enischymeno krasi): fortified wine
γευστική δοκιμή κρασιών (yevstiki dokimi krasion): wine tasting
γλυκό κρασί (glyko krasi): sweet wine
κάβα (kava): wine cellar or liquor store (from the French cave) Also means aged reserve wines (minimum aging: 1 years for whites; 2 years for reds)
καράφα (karafa): carafe
κελλάρι (kellari): wine cellar
κρασάτα (krasata): something cooked in wine
κρασί κόσερ (krasi koser): Kosher wine
κρασί ροζέ (krasi rosé): rosé wine
κόκκινο κρασί (kokkino krasi): red wine
κτήμα (ktima): wine estate, vineyard
λευκό κρασί (levko krasi): white wine
λίστα κρασιών (lista krasion): wine list
μπουκάλι κρασί (boukali krasi): wine bottle
ντόπιο κρασί (dopio krasi): local or domestic wine
οίνος (oinos): the ancient word for wine
οινοποιείο (oinopoieio): winery
οινοπιεστήριο (oinopiestirio): wine press
ποτήρι κρασί (potiri krasi): glass of wine
σομελιέ (somelié): sommelier
ξηρό κρασί (xino krasi): dry wine
Wine Classifications (ΚΑΤΗΓΟΡΙΕΣ ΟΙΝΩΝ)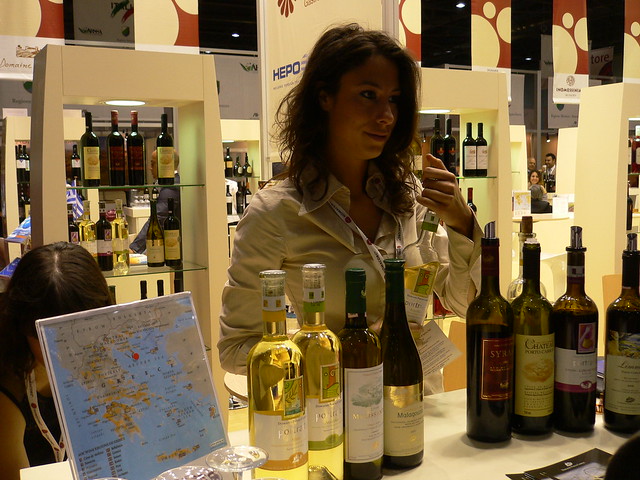 Ονομασίας Προελεύσεως Ανωτέρας Ποιότητας (Ο.Π.Α.Π.) (Onomasias Proelevseos Anoteras poiotitas): Appellation of Origin of Superior Quality. There are 20 of these in Greece
Ονομασίας Προελεύσεως Ελεγχόμενης (Ο.Π.Ε.) (Onomasias Porelevseos Elegchomenis): Similar to the above, but only used for dessert wines (there are 8 in Greece)
Ονομασία κατά Παράδοση (Onomasia kata Paradosi): Appellation by Tradition (retsina is one, another is Verdea from the Ionian Islands)
Τοπικοί Οίνοι (Topikoi oinoi): Regional Wines, or wines from a designated region (similar to the French vin de pays), a cut above table wine, following similar rules to appellation wines. Sometimes they are better than
Επιτραπέζιοι Οίνοι (Epitrapezios Oinos): table wine
Greek Wine Grapes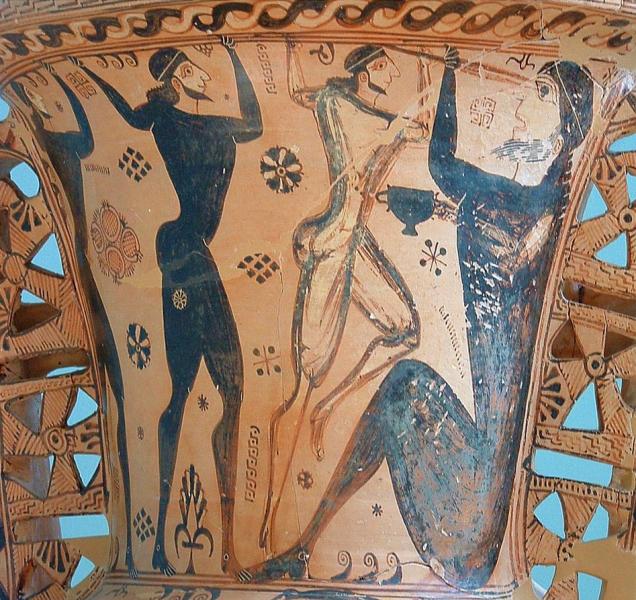 Greece has an extraordinary number of unique indigenous varietals. Main ones are"
Agiorgitiko: The mighty red grape behind PDO Nemea in the northeast Peloponnese, nicknamed the 'Blood of the Lion' after the Nemean Lion, killed by Heracles in one of his first Labours.
Aidani: Somewhat rarefied white grape found on the Aegean islands, especially Santorini; known for its flowery bouquet.
Assyrtiko: One of Greece's best white grapes, the base for volcanic Santorini's PDO wines. Because the grapes adopt the character of the soil, the wines come in a surprising variety of styles – fruity, crispy or even slightly smokey. Assyrtiko Nykteri are made from grapes traditionally picked by night.
Along with Aidani and Athiri, Assyrtiko grapes are dried for Santorini's sweet dessert wine, PDO Vinsanto. After carefully deliberations, the EU decided that the island is where vinsanto was first made, and gave it exclusive rights to use the word Vinsanto on the label
Athiri: An Aegean grape often blended with Assyrtiko; makes fragrant, lemony white wines, the base of PDO Rhodes.
Debina: Epirus's high-altitude (600m plus) grape that yields fresh dry or medium dry white wines and Greece's only naturally sparkling white wine, PDO Zitsa.
Kotsifali: Sweet and spicy red grape unique to Archanes and Peza on Crete; it's blended with the Mandelaria for colour.
Liatiko: Red grape grown on the Aegean islands and on Crete, where it yields PDO Sitia. The name comes from the Greek for 'July', when these grapes ripen.
Limnio: A drought-resistant grape from Limnos and perhaps the oldest varietal in the world – it was even mentioned by Homer; used in PDO Plagies Melitona, around Porto Carras on Chalkidiki, one of the largest privately owned wine estates in Europe and home of Château Carras.
Malagousia: the nearly extinct white grape rediscovered by the Ktima Gerovassiliou just outside Thessaloniki, yielding soft, very fruity wines.
Malvazia: Grown on Paros and Syros, this white grape from Monemvasia in the Peloponnese was used to make the popular sweet wine, malvasia or 'malmsey' imported by the Venetians to Europe. Modern wines have a peachy, aromatic tone.
Mandelaria: Ancient almost black grape, used for blending with others low in tannins. On Rhodes, where it's also known as Amorgiano, it is used as a single varietal.
Mavroudi: From Dionysos's native Thrace (a grape of the same name is also grown in the Peloponnese and Cyprus, although it's different). Thracian Mavroudi is the rival of Limnio in antiquity; it claims to be the wine that Odysseus used to intoxicate Polyphemus the Cyclops.
Moschofilero: aromatic white grape from Mantinea, in the central Peloponnese, producing wines reminiscent of Moscato d'Asti.
Muscat: Like Assyrtiko, a white grape produced in a vast range of styles from dry to dessert wines. Grown mainly on Kefalonia, Rhodes and Samos, and producing a dry white and on Samos a dessert wine named after the island (see moskostafylo)
Negoska: A northern red varietal, blended with Xinomavro in PDO Goumenissa
Robola: A grape of extremely low yields, unique to the southern mountain slopes of Kefalonia, producing an excellent fragrant, bone-dry white wine.
Roditis: White varietal producing elegant wines, widely grown in Attica, Macedonia, Thessaly, and the Peloponnese.
Savatiano: The 'Saturday' grape, the most common variety grown in Attica and Evia, yielding the light white wines and retsina. Also a soft fruity white wine such as PDO Anchialos along the west coast of Thessaly's Pagasitic Gulf.
Villana: Indigenous to Péza on Crete; produces that area's crisp white PDO Chandakas - Candia wines.
Xinomavro: Literally the 'sour black' grapes that yield some of Northern Greece's finest red wines: PDO Goumenissa, PDO Naoussa, PDO Amyntaio and PDO Rapsani. The last one grows on the lower slopes of Mount Olympus, 'tamed' with two other indigenous varietals, Krasato and Stavroto.