Syros
Capital of the Cyclades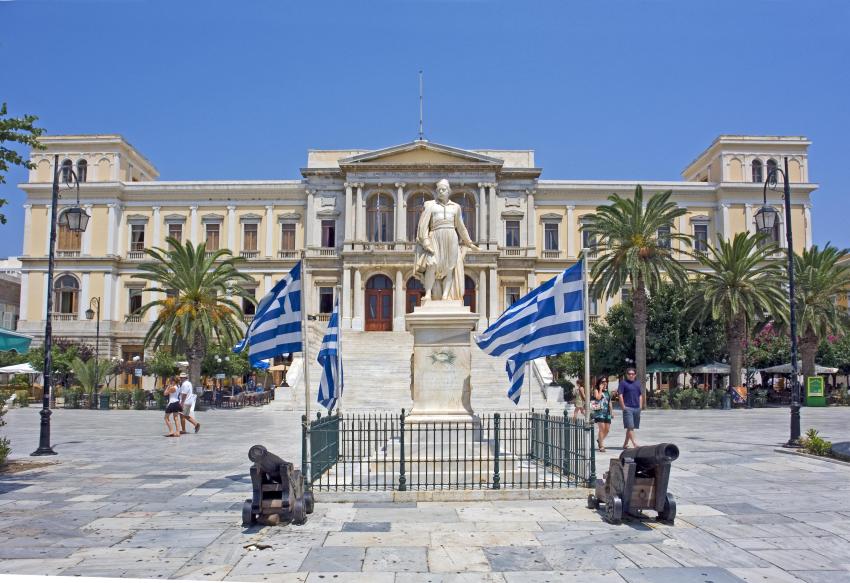 Inhabitants of Syros (locally known as Syra) affectionately call their island home 'Our Rock' and it's as dry and barren a piece of real estate as you can find. But at the beginning of the Greek War of Independence in 1821 it was blessed with three important qualities: a large natural harbour, the protection of the King of France, and a hardworking population.
The result is Syros's capital, Ermoúpolis, once the premier port in Greece, and today the largest city and capital of the Cyclades. Don't come here looking for Cycladic sugar-cubism: Ermoúpolis is the best-preserved 19th-century neoclassical town in the whole of Greece.
A sophisticated island, with many Athenians working there in law or local government, Syros can afford to snap its fingers at tourism, but it's booming nonetheless. However, it remains very Greek, and tourists are treated more like guests rather than customers – except when it comes to loukoúmia, better known as Turkish delight (both the Greeks and the Turks claim to have invented it; no one really knows). These sweet, gummy squares, flavoured with roses, quinces or pistachios and smothered in icing sugar, are an island speciality, along with gorgeous nougat-like halvadópittes.
History
Text © Dana Facaros
Images by alexcoitus, G Da, John Carne , John Winder, Lucian Niculescu, NNeilAlieNN, PD Art, Rberteig, Turin99, Zde