Milos
The Island of Colours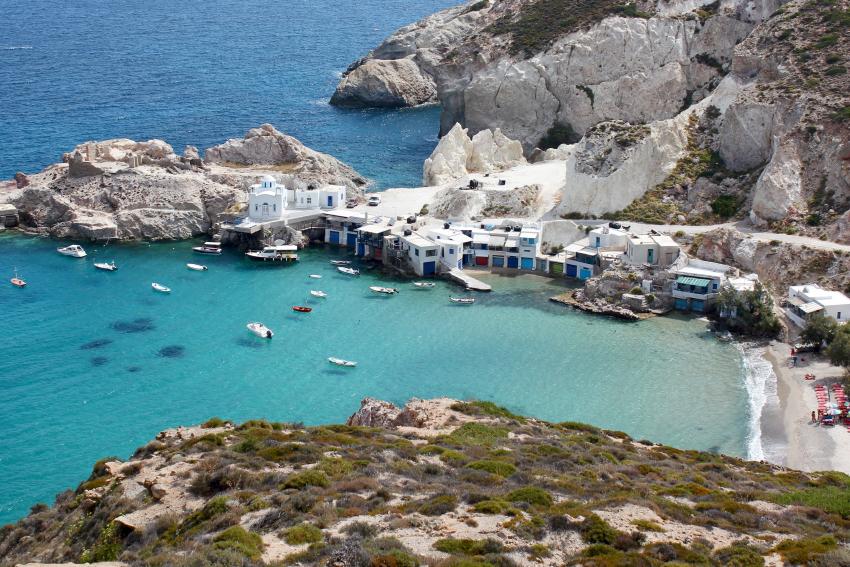 Like Santoríni, Mílos is a volcanic island. But where the former is a glamorous beauty associated with misty tales of Atlantis, Mílos is a sturdy fellow who has made his fiery origins work for a living, although increasingly it's from visitors attracted by its astonishing otherworldly looks.
Few places can boast such a catalogue of geological eccentricities: hot springs bubble in its low, rolling hills, rocks startle with their Fauvist colours and the landscape is gashed with obsidian, sulphur, barium, alum and bensonite quarries begun in the Neolithic era. Many islanders still work in the mines, including Europe's largest bentonite mine and kaolin.
In a beach beauty contest Mílos with 70 beaches, in all shapes and sizes, would score over Santoríni hands down, with miles of pale golden sands; long strands and weird fjord-like inlets all lapped by deep turquoise waters, some bubbling with geothermal springs. It seems an odd trick of Mother Nature to so endow such an out-of-the-way island with this mineral cornucopia.
Text © Dana Facaros
Images by Chris Gold, David T on Unsplash, dronepicr, Graeme Churchard (GOC53), Jean Delard de Rigoulières, Klearchos Kapoutsis, Martin Wolsing, Nikos Moumouris, pastitio, Sophie Tavenne, Zde