Salamína
and the sea battle that saved Athens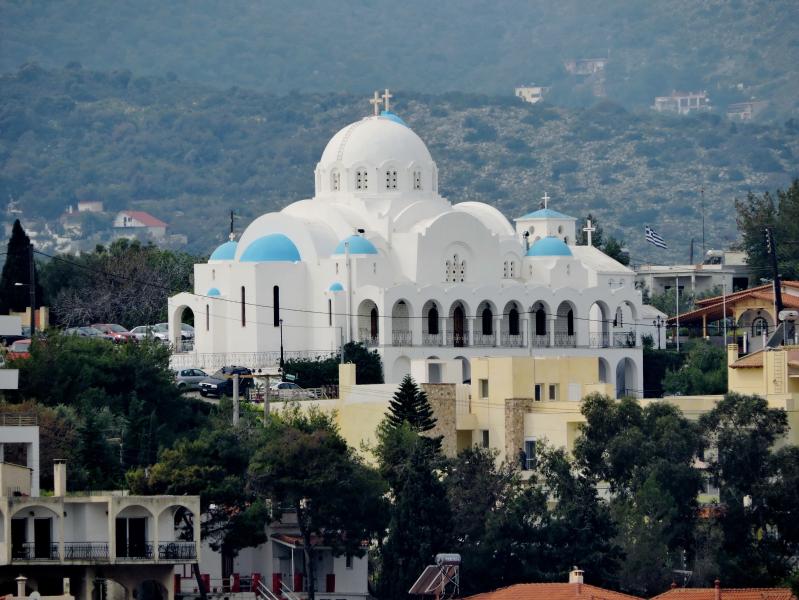 Floating in the same bath water as Piraeus, only 3km across the Strait which saw the dramatic victory over the Persians in 480 BC, Salamína or Salamis (pop. 31,000) is the most suburban of islands, gritty and busy with shipyards and a naval base, but also a time-warp, its complete lack of pretensions, cheap tavernas and ouzeries a reminder of the Greece of yesteryear. Shaped like an amoeba on LSD, its also has the most confusing geography of any Greek island. Expect to get lost.
The pine-forested southeast is the prettiest part of the island, and the villages of Moúlki (or Eádio) and Selínia with their beaches are popular weekend retreats for working-class families.
History
When Telemon and Peleus slew their brother Phocos on Aegina, Telemon took refuge on Salamína, then the island of serpents: a particularly destructive one had been killed by its first king, Kychreus (Cychreus), a shadowy character who himself began his career as the snake in Eleusis, on the mainland opposite.
Text © Dana Facaros
Images by Achilles Vasileiou, Barba' s, Dimitris Kamaras, Jona Lendering, Maximosp1980, Patrick Gray, Violeta Meleti, Α.,Τ.