A bowl of Samian Wine
The ancient wine of Samos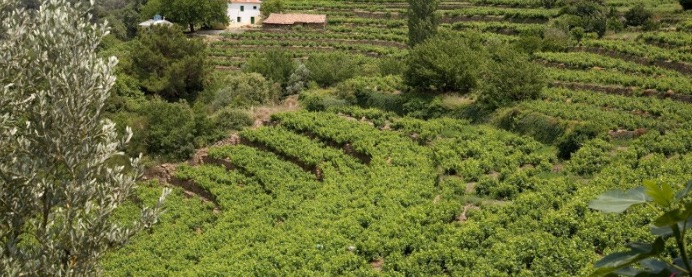 Fill High the Bowl with Samian Wine...
wrote Byron is his Isles of Greece, the poem that rallied the world's philhellenes to the cause of Greek independence 200 years ago. And on Sámos they still make it today.
The north-facing mountain villages of Vourliótes, Manolátes and Stavrinídes are the top wine-growing villages, where the local grape, Moscháto Sámou, has reigned for the last 2,000 years or so.
The old vines are thickly planted on small anti-erosion terraces called pezoúles between 492ft/150m to 2,624ft/800m above sea level and, like all quality dessert wines, have an extremely low yield.
After years of neglect in the Middle Ages, Samian wine began its comeback under the Greek settlers brought over by the Ottomans in the late 16th century. By the 18th century it was imported in large quantities to Sweden and even to France, and the Catholic Church gave Sámos a concession to provide wine for Mass, something it still does to a degree in Austria, Switzerland and Belgium. When the phylloxera decimated Europe's vines in the mid 19th century, Samos was the chief supplier of Communion wine; the Vatican even had its own vineyard.