Dionysios Solomós
Poet of Freedom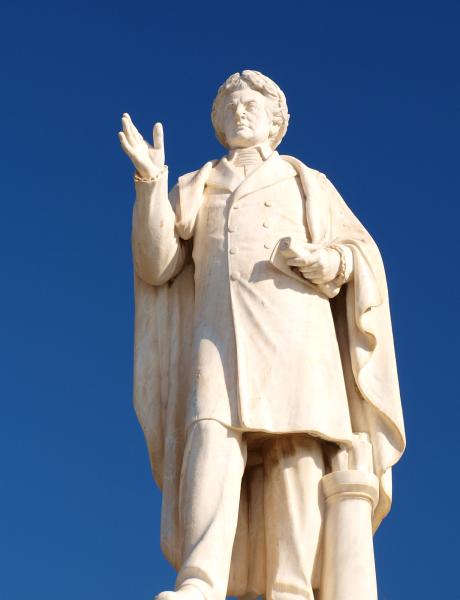 Solomós is the more intriguing character. Born on Zákynthos in 1798, he was educated like many Ionian aristocrats in Italy and wrote his first poems in Italian. He then decided that it was time for Greece to have a Dante of its own and, like Dante, he rejected the formal language of the day (in Dante's day Latin, in Solomós' the purist Greek, or katharévousa) and chose instead the demotic everyday language.
Nearly as important, he broke away from the 15-syllable line that dominated Greek poetry from the 17th century, and introduced Western-influenced metres and forms.
Solomós concentrated on lyrical verse until the Greek War of Independence inspired deeper and increasingly more spiritual works, especially The Free Besieged', which he wrote after the heroic resistance of Messolóngi.
His verse has a degree of beauty, balance and delicacy that has rarely been matched in modern Greek poetry – that is, whatever fragments have survived; highly strung and hyper-critical, Solomós destroyed nearly everything he wrote in his later years on Corfu, where he often used his influence with the British to gain more lenient sentences for Greek nationalists on the Ionian islands.
The first stanzas of his Ode to Liberty, which he composed upon hearing of the death of Lord Byron, are now the lyrics to the Greek national anthem:
I recognize you by the fierce edge of your sword; I recognize you by the look that measures the earth…