Crete: Geography
What's where on the big island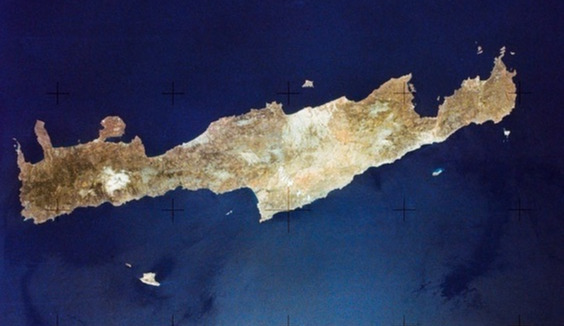 Crete on the map is an odd, horned, wasp-waisted creature that seems to scoot along the 35th parallel, midway between Europe, Africa and Asia: its south coast is only 198 miles (320km) from Egypt and further south than the Mediterranean coasts of Morocco and Algeria.
It is Greece's largest island, and the fifth largest in the Mediterranean after Sicily, Sardinia, Cyprus and Corsica, roughly 160 miles long and an average of 30 miles wide (260 by 50 km). These rather limp numbers are ground into nonsense, however, by Crete's tremendous mountain ranges, especially the White Mountains (Lefká Óri) and the Idaean Mountains, centred on legendary Mount Ida or Psilorítis, both topping 8,000ft (2,400m), covered with snow each year until June and enough to make any journey from A to B an adventure.
Crete simply wouldn't be Crete without this great spine: the mountains are responsible for its extraordinary beauty, its diverse climates, its independent spirit and resistance to heavy-handed invaders, be they Dorian, Roman, Venetian, Turkish or Nazi, and its tendency towards mysticism (peaks and caves – 3,000 of them – were the first shrines, even before the Minoans). Many of the same peaks and caves have churches on or in them to this day, giving perhaps a European record for continuity of worship in the same places.