spiedini
kebabs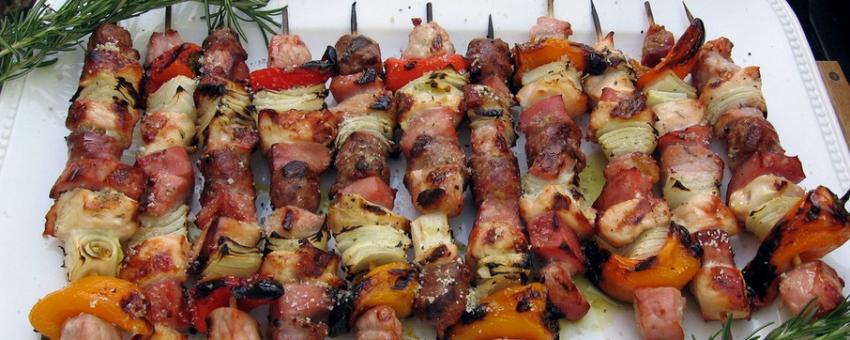 Some believe the Crusaders brought them back to Italy, but it's just a guess. In any case spiedini ('little spits') have been around a long time. Pork or chicken, sausage, prawns and scallops, fish, all get speared, with maybe some zucchini, peppers, onions and even pineapple mixed in.
If they're grilling things on big spits, it's likely to be called a grigliata mista. If they serve it on little ones, it's spiedini. Some spiedini dishes can be baked, or breaded and fried.
In Sicily, spitini or spiedini are often involtini (thin beef rolled around a stuffing of onion, breadcrumbs, raisins and pine nuts). But Palermo's spitini di rosticceria are a bizarre treat that would be a sure hit in Glasgow or Mississippi: a tidy rectangle made up of layers of cut white bread and a thick beef ragú, held together on two skewers and deep-fried in egg and breadcrumbs.
Italian-American spiedini alla romana aren't spiedini at all—a loaf of bread with mozzarella inserted throughout, baked, or dipped in egg and breadcrumbs and lightly fried, and served with a caper and anchovy sauce. Possibly inspired by Naples' mozzarella in carrozza.