puttanesca
'whore-style sauce'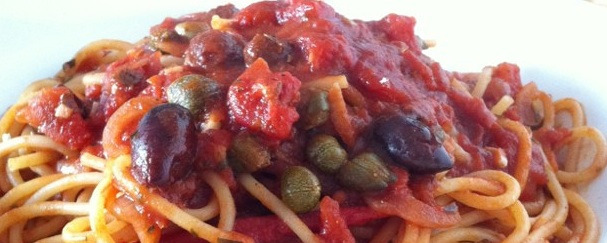 Some say it originated in Siracusa, Sicily, while others say it was first made on Ischia in the Bay of Naples...the fact that, as much loved as it is, puttanesca only appeared as a sauce in the 1960s (see here for a thorough discussion of its origins).
Recipes vary, but essential ingredients include sautéed garlic, onions and anchovies (for the saltier, Sicilian version) in olive oil, with chilli peppers, olives, capers, diced tomatoes and oregano, and parsley.
Although originally served on spaghetti, the sauce has also found its way onto other pasta shapes, onto pizza, stuffed in roast tomatoes, or daubed on fish. The one place, where you probably won't find it, however, is a whorehouse—they've been banned in Italy since 1958.