acciughe
anchovies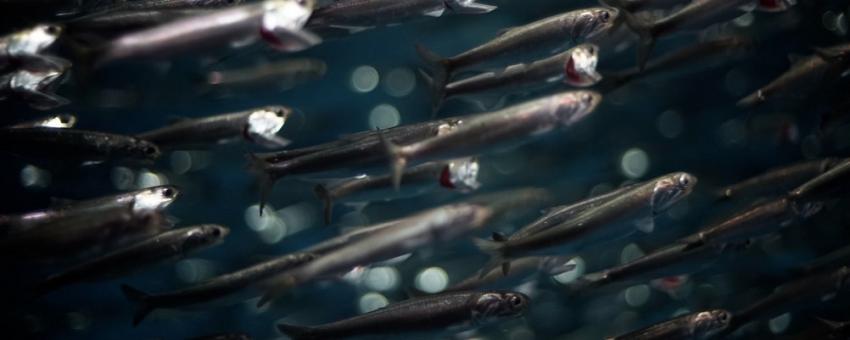 Engraulis encrasicolus, also known as alici. Although most 'anchovies' in Italy are preserved in salt (and come from Spain's Atlantic coast), from May to September smaller, more delicate Mediterranean anchovies appear. The proper acciuga or acciuca is actually a distinct species, unlike the other 'pesce azzuro', which might be any small fish. It plays an important role in local cuisines, as in puttanesca sauce.
In the south, fresh or salted, they're in everything. Look for 'white anchovies' (filleted and marinated in white vinegar) or anchovy fillets ground into a paste, an important ingredient in the classic Sicilian pizza, sfincione.
Salted Ligurian anchovies (Engraulis Encrasicolus L) are especially prized, tender and tasty due to the saltiness of the Ligurian sea. Fished at night between April and mid-October using electric or gas lamps to attract them ('della lampara') they are up to 20cm long and are prepared according to a traditional method in glass containers called arbanelle. They are designated IPG.
In the Cinque Terre, look for cotolette di acciughe (a rather labour-intensive dish of anchovies stuffed and then fried), or acciughe alla ligure (anchovies marinated in olive oil with parsley, garlic and oregano). In the same Rivera di Levante area, many anchovies end up in bagnun.
Liguria has been sending salted anchovies north to Piedmont since ancient times, where they are essential ingredients in the hot dip, bagna càuda or for the classic antipasto, acciughe al verde, finely chopped with parsley, garlic, olive oil, salt, pepper and red chilli, and kept in the fridge for a couple of days before spread on bread or served with a bollito misto.
The Tuscan acciughe sotto pesto, popular around Siena, has the same ingredients as acciughe al verde, only the anchovies are kept whole and marinated for 12 hours before serving on toast.
A number of regions also make special dishes from novellame, or baby anchovies and sardines.
Note that many regional words for anchovy can be confusing because they sound like sardine or are the same word, or mamma mia!, sound like something else altogether:
Abruzzo: argentini, nudini
Calabria: alicia, aliciàstra, aliciastrùni, biancomangiare, mezz'alici
Campania: alice 'e sperone, alice anure or annure, mieze alice, cicinielle
Emilia Romagna: sardoncino, sardone, sardon, sardun, anciòn, bagìg
Friuli Venezia Giulia: sardone, sardòn, sardela, anciò
Liguria: ancioa, ancioia, anciuin, anciue, ancina, amarou, amoronu, amplova, ampluva, ampolla, paase, paasette, gianchetti
Marche: sardone, sardòn, sardoncino, sarduncìn, sardela, magnana, lič, paranzoli, argentini latterini, nudìn
Piedmonte: anciùe, anciove
Puglia: aléce, alice de sperone, speronara, alaisc, alaisce, allievi
Sardinia: anciova, anciovitta, anciona, angiona, angioja, azzuga, azzuva, aguzza
Sicily: alaccia, anciovi, aléce masculina, masculinu 'mperiali, masculina, anciova, ancivu, aliccia, ancidda, ancioja, anciojarina, lice, corinedda, sfigghiata
Veneto: sardone, sardòn, anchiò, bagìgi