salsa
sauce, or dressing, or a condiment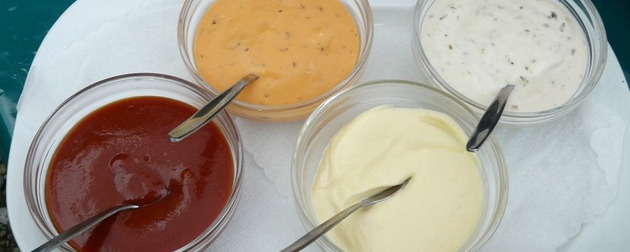 Salsa generally means sauce as in English, as well as salad dressing.
salsa agresta: sour grapes with saffron, sugar and breadcrumbs, used with fried foods; now rare (Liguria)
salsa agrodolce: sweet sour sauce
salsa brun: same as salsa spagnola (see below)
salsa di mirtillo: cranberry sauce
salsa di spezie e frutta: chutney
salsa olandese: hollandaise sauce
salsa piccante: hot sauce
salsa rosa: cocktail sauce, or mayonnaise with tomatoes and yoghurt.
salsa rubra: ketchup (most Italians now say ketchup, however)
salsa san bernardo: a sweet and sour sauce of pounded almonds, anchovies, breadcrumbs, orange juice, grated chocolate and vinegar, used on aubergines and caponata (Sicily)
salsa spagnola: brown sauce made by slowly boiling and reducing a meat (or fish) and vegetable stock, then slowly adding the broth to a brown roux. Considered one of the three classic sauces of international cuisine (along with mayonnaise and béchamel).
salsa tartara: tartar sauce
salsa verde: green sauce
salsa villeroy: béchamel with egg yolk, flavoured with one or more of the following: truffles, parmesan, ham
salsa tonnata: mayonnaise with tuna, capers and anchovies
savore sanguigno: a popular 14th century sauce, made of sandalwood, raisins, cinnamon and sumac, mixed with wine must and vinegar (Liguria)