peposo
peppery beef stew invented in the Renaissance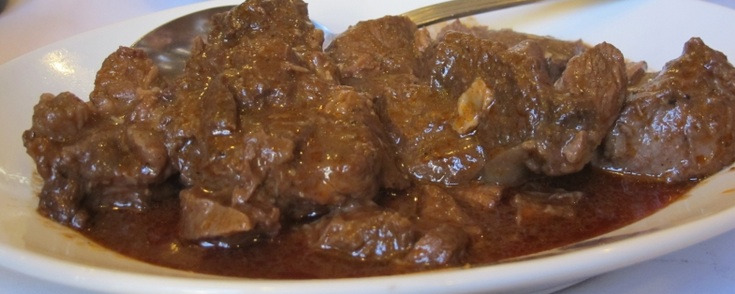 Made with beef shank, Chianti, garlic, plenty of black pepper, sage and rosemary, cooked at a low heat, then served on slices of toasted bread, although many restaurants serve it with polenta.
Peposo was invented in Impruneta, a village in the Florentine hills with rich clay soil, by the fornaciai (furnace workers) while baking the terracotta tiles for Brunelleschi's dome. In the morning they would toss the ingredients in a terracotta pot, put in a corner of the oven, and by lunch time, hey presto it was ready. Did the Tuscans invent slow cooking? Like their classic fagioli al fiasco, peposo takes time—in general five hours.
Impruneta celebrates its invention with Peposo Day, the first or second Sunday in September, then celebrates it again in the late November Festa dell'Uva.