pere e musso
pig's foot and snout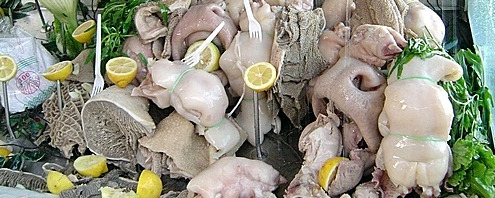 'O pere e 'o musso is the primeval soul food (and street food) of Naples and Campania. You know you've found it when you see a small truck or butcher's window with a display on the back with rows of boiled pig parts arrayed on spikes with slices of lemon.
It's usually just meat from the foot and snout, though tripe, organs and God only knows what else might be in there. It is commonly served cold, chopped up in a paper cup with a skewer, maybe with lupins, fennel or peperoncini, and these days maybe with a splash of tequila along with the lemon.
They say Giorgio Vasari painted a plate of pere e musso in his frescoes at Sant'Anna dei Lombardi. If you can find it let us know.