vino
wine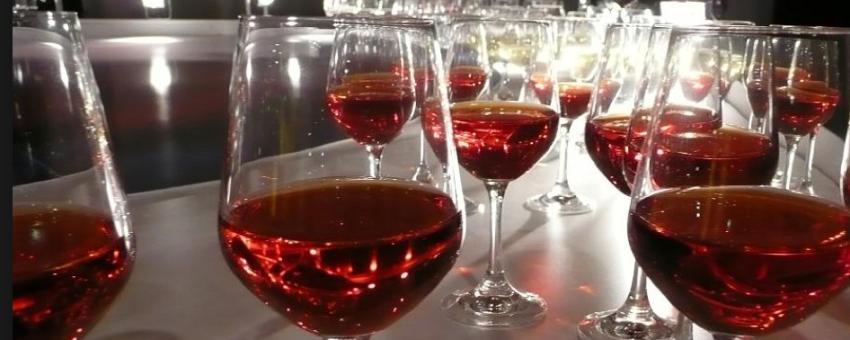 In vino veritas ('In wine there is truth.') Pliny the Elder
I cook with wine; sometimes I even add it to the food. W. C. Fields
This, of course, deserves an app all its own. But in a nutshell, Italy, bathed in Mediterranean sunshine, blessed with an endless variety of terrains, coasts, mountains and hills, is the world's top wine producer, with over a million vineyards on the Big Boot.
Each of its 20 regions produces wine (click here for a basic map), and each boasts at least one wine accorded DOC status (there are some 330 DOC wines, and some 70 superior DOCG wines all together; the lion's share of the latter are in Piedmont and Tuscany). Yet one of the great pleasures of travelling in Italy is discovering a local gem.
Common Varietals
Some 500 different kinds of wine grapes grow in Italy. Among the most important:
Aglianico: Powerful tannic red grape grown in Basilicata and Campania—the best bottles can be aged for decades. The name is derived from ellenico (Hellenic)—the variety was brought over from Greece in ancient times.
Barbera: Piedmont's 'B' grape, always a bridesmaid to the region's 'A' grape, Nebbiolo. But also produces elegant, medium-bodied cherry red wines.
Corvino: Red grape that stars (along with lesser Molinara and Rondinella) in the Veneto's Valpolicello and its beloved Amarone.
Dolcetto: A red grape of Piedmont, 'little sweetie' (named for its easy-to-grow character, compared to the notoriously difficult Nebbiolo, see below) produces the region's more affordable red wines.
Fiano: White grape grown mostly in Campania, producing luscious, full-bodied wines. Fiano di Avellino is considered the best.
Friulano: A white variety behind the typical wines of Friuli, previously known as Tocai until the name was changed to avoid confusion with Hungary's Tokay. Also known as Sauvignon Vert or Sauvignonasse.
Garganega: The white varietal used in the Veneto's Soave and Recioto di Soave.
Montepulciano: Red variety grown in central Italy: two of the finest are produced in the Abruzzo (Montepulciano d'Abruzzo) and Marche (Rosso Conero).
Moscato: one of the main white grapes of Piedmont, used to make sparkling Moscato d'Asti.
Nebbiolo: The famous 'little fog' grape (named for Piedmont's autumnal mists) behind two of the country's most prestigious wines, Barolo and Barbaresco. Also famously refuses to grow well outside Piedmont. Astringent and almost undrinkable when young, sublime when aged a minimum of five years of age—but the best come into their own at 50 years.
Nero d'Avola: the 'black grape of Avola' is found throughout Sicily, and produces warm generous wines.
Pinot Bianco: The main variety grown in Trentino-Alto Adige and Friuli-Venezia Giulia., making crisp, fruity light-bodied white wines.
Pinot Grigio: the slightly duskier version of Pinot Bianco, grown extensively and producing a light, citrus-scented white wine; main regions areTrentino-Alto Adige, Veneto and Friuli-Venezia Giulia.
Primitivo: Red varietal from Puglia, spicy, black and very alcoholic.
Sagrantino: Unique to Umbria, yielding an inky dark blackberry scented wine.
Sangiovese: Italy's most famous red grape, grown throughout Central Italy and especially in Tuscany, used in a huge variety of wines, including Chianti, Brunello di Montalcino, Vino Nobile di Montepulciano and Montefalco Rosso. Sangiovese is also the base of the 'Super Tuscans'.
Trebbiano: Known as Ugni Blanc in France, the most widely planted white grape in Italy, and source of much quaffable plonk, although can be excellent. Also the grape used to make balsamic vinegar.
Verdicchio: A white grape known as the 'little green one' is only grown in the Marche, yielding its delicately delicious DOC wines from the Castelli di Jesi and Matelica.
Vermentino: A white grape that does best in Italy's coastal regions (namely Liguria, Tuscany and Sardinia); excellent with seafood.
Useful wine words:
vino d'annata: vintage wine
vino da tavola: table wine
vino della casa: house wine
vino del paese: country wine
vino sfuso: loose wine
vino speziato: mulled wine
vino visciolato (or vino di visciole): alcohol based on cherries, or red wine infused with cherries. A speciality of the Marche.