grano
wheat or grain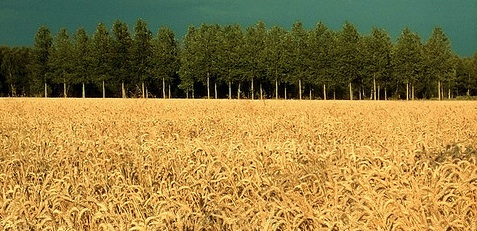 Although frumento is properly 'wheat', gran or grano (grain) is commonly used as well, and the Italians, naturally, are great connoisseurs; see also grano duro and farina. There is a movement in recent years to bring back historic varieties of wheat and spelt (farro). Grano saraceno is buckwheat; grano di caffé is a coffee bean.
Some wheat versions of grano you may see include:
Gran cotto (cooked wheat in a jar— used in the classic Neapolitan Easter pie, Pastiera)
grani antichi: varieties of native wheat. Some 291 different ones exist (or exisited) in Italy in the 1920s, including over 50 in Sicily (grani duri antichi siciliani) once the breadbasket of Rome
grano al ragù: boiled grains of wheat with a sauce of salt pork, sausage and tomato sauce, topped with grated pecorino (Basilicata)
Grano del faraone: an ancient semolina wheat 'of the Pharaoh'
Grano dolce: another word for cuccia (Basilicata)
Grano duro Cappelli (durum wheat Cappelli) a sweet easy digestible wheat for pasta
Grano marzuolo: an ancient kind of drought-resistant wheat, used in make the traditional pane nero di Castelvetrano
Grano spezzato: bulgur
Grano tenero Gentil Rosso (semolina Gentil Rosso) a 19th-century variety
Grano tenero Sieve (Sieve semolina): ancient variety used again for bread and sweets.
Grano tenero Verna (Verna wheat): used for baking
In late June, Faicchio in the province of Benevento (Campania) hosts a Festa del Grano, celebrating traditional ways of planting and harvesting wheat and making it into bread and pasta, with plenty of folklore, music and dancing.