uva
grape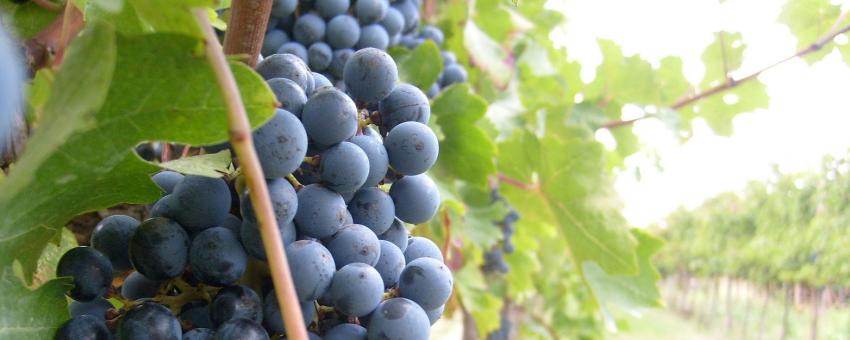 Italy is the world's top producer of uve or grapes. Most are for wine, but the country can also claim to be the top producer of table grapes as well, growing both European and Californian varieties. Most come from the south, mainly Puglia (65%) and Sicily. Some varieties of table grapes (and non-grapes) that you may run into include:
uva Apulia Rose: new seedless red variety developed in Puglia, with a long shelf life, rich in antioxidants.
uva Autumn Royal: cylindrical seedless red grapes, harvested from September-November.
uva Big Perlon: seedless dark purple variety, very compact, available from late July-November.
uva Black Magic: precocious dark red table grapes (early July-September).
uva Centennial Seedless: seedless white grape, originally from California (late July-mid September)
uva Colombana di Peccioli: hard to find pinkish yellow table grape native to the region around Pisa, that took its name from St Colombano, who according to legend planted the first vineyards in the 7th century. Ark of Taste.
uva Crimson Seedless: violet-rose coloured seedless variety (September-December).
uva fragola: the native American Isabella grape (vitis labrusca, also known as the Raisin De Cassis, Framboisier, Alexander and Black Cape) and used in jams and sweets and, traditionally in fragolin. It has a strawberry like flavour, and was the grape that, although naturally immune itself, carred phylloxera into Europe on its roots, decimating the continent's vines (all vitis vinifera). Some growers, fairly or not, fear its very presence creates the right conditions for phylloxera lice. In the 1980s the EU banned selling Isabella grapes in any form, but people are still allowed to grow them for home consumption.
uva galletta: long grapes that resemble the kidneys of a chicken.
uva Italia: aka muscat; top selling sweet white table grape, tolerates long transport times and is exported around the world (September-November)
uva nera: red grapes.
uva Melissa: seedless greenish yellow grapes with large berries (August).
uva Palieri: black violet coloured table grapes (late August-November).
uva Perla Nera: medium sized reddish blue grapes.
uva Pizzutella Bianca: crispy pointy-shaped greenish golden grapes (August-November).
uva Red Globe: striking pink grapes the size of small plums, originally from California, now one of Italy's big exports (late September-December).
uva Regina: white grapes famous for their sweet taste; one of the oldest Mediterranean varieties.
uva senza semi: white seedless grapes.
uva Sugrarone: Superior seedless—a precocious white variety (July-September).
uva spina: gooseberries.
uva sultanina: sultanas.
uva Thompson seedless: popular white grape, both for eating or juice (late August-October).
uva Victoria: big sweet white table grape originally from Romania, early producer; comes on the market in August.
uva zibibbo: see zibibbo.