cuddura
bread rings and many other things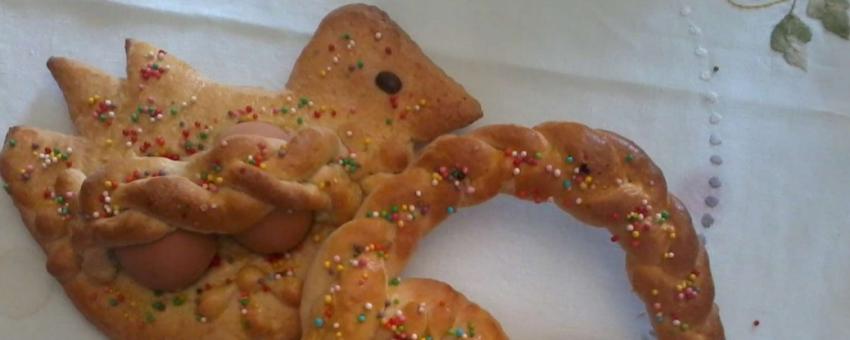 The word comes from the ancient Greek kollyra for a round or ring shape but each region of southern Italy has come up with its own version of cuddura, with countless variations.
The basic cuddura dough of flour, yeast, salt and water can be topped with anything savoury, or made into a sweet bread, especially around Easter, when many (as in Greek Orthodox tradition) add a hard boiled egg or two before baking.
In Sicily, cuddura cu l'ova is a hard sweet biscuit made at Easter in various shapes, with an egg (as in the photo above); also known as aceddu cu' l'ova or pani cu' l'ovu ('bird with its egg'). Other variations are dove-shaped palummeddi without an egg; Nicosia's pupi cull'ova made in the shape of dolls with an egg. Cuddureddi are ring shaped and made for the feast of St Blaise (San Biagio).
Cudduruni (or cuddiruni) made around Siracusa are savoury focaccia, filled with potato, anchovies, onion, tomatoes, and oregano, although they can also be sweet disc shapes made out of bread dough, fried and sprinkled with sugar. And if all that hasn't made your head spin, you can find ring-shaped cuddureddu with dried figs and almonds made around Christmas time in Caltigirone.
In Calabria, cuddhura are similar to the Easter version (other names are sguta, cucùlu, vuta or pizzatola), but there are also savoury cuddhura col lardo (or cuddhuraci or 'nguti). Also see cuddrurieddra and cuzzupa.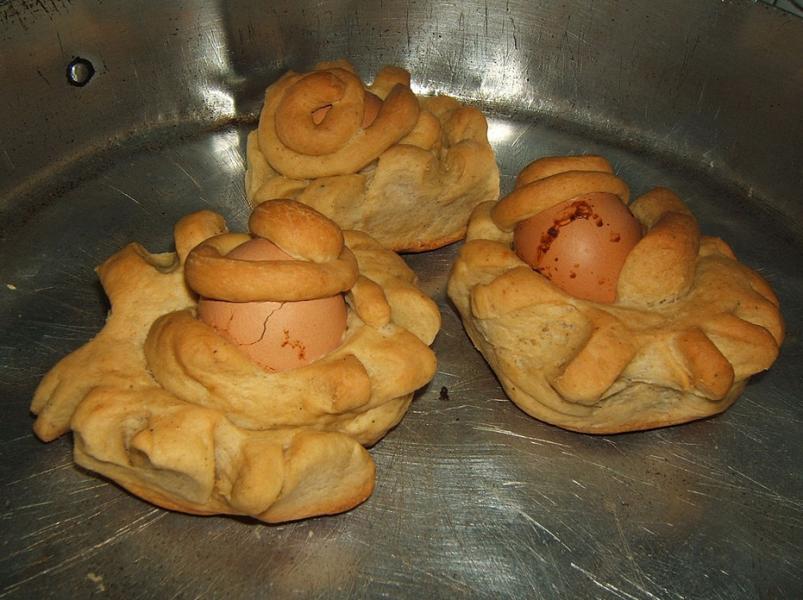 In Puglia, especially on the Salentine peninsula, the Easter versions are called cuddhura or cuddhura cu l'oe, palomba, puddhriche, palummeddhra, panareddhra or puddhica cu l'oepuddhricastri. The pannaredd of Basilicata are similar.
In Sardinia, they are cocói a pitzus or cacoi, coccoi a pitzus or su scetti and made for holidays, especially Easter, again with a hard boiled egg, or into elaborate shapes of all kind, as in pane delle feste.