Santa Fosca (Torcello)
Torcello's other church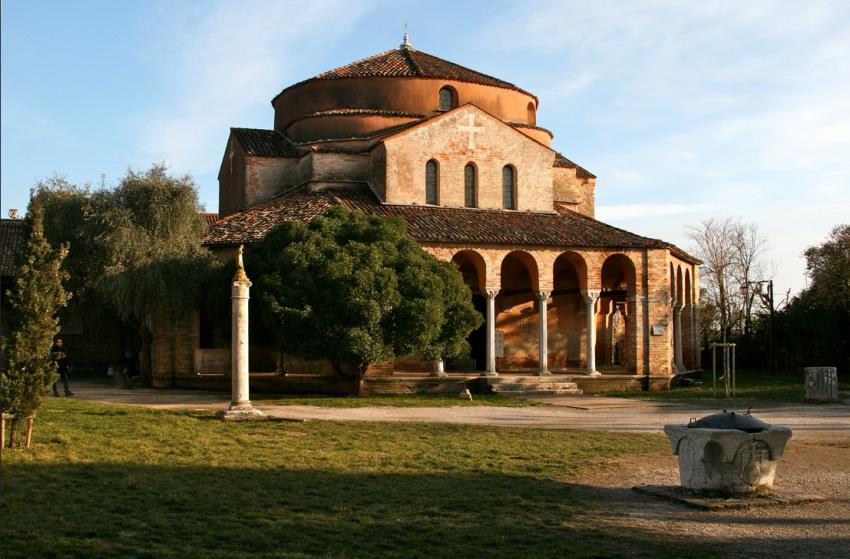 In the same piazza as Torcello's more famous ex-cathedral, the Basilica di Santa Maria Assunta, the early 11th-century church dedicated to Santa Fosca, built to replace a 7th-century version, was never really completed, and whatever internal decoration it ever had is gone. Nevertheless, the plain shell of the church is the most elaborate work of late Byzantine architecture in existence, a lovely and unique conception.
As in so many other churches, beginning with the Hagia Sophia itself, it takes a central Greek plan and elongates one side to form a nave with three apses; the front and sides are graced by a five sided arcaded porch set on reused ancient Greek columns and capitals, while the crossing is crowned by a low cylindrical dome. Like all the best medieval buildings, this one was built by constructive geometry: both in the plan and the elevation its architects employed the proportions of the 'Golden Section' of the ancient Greeks.
The minimal exterior decoration adds to the beauty: 'wolf teeth' patterns and delicately carved white marble arches adorn the apse. A relief embedded in the exterior wall, showing the saint worshipped by her followers, dates from the 15th century.
Santa Fosca was intended as a martyrion, a small church in honour of the saint, a virgin martyr from Ravenna, whose remains lie in a glass case under the altar, next to her faithful nurse Maura. The ensemble of the lost baptistry, cathedral and martyrion were symbolically meant to recall the circle of birth, life and death, as pretty a conceit for a monumental centre as any town ever had.
Hours Mar-Oct 10.30am-6pm; Nov-Feb 10am-5pm
Adm Free
vaporetto: Torcello