Pietro Bembo
Venice's Renaissance man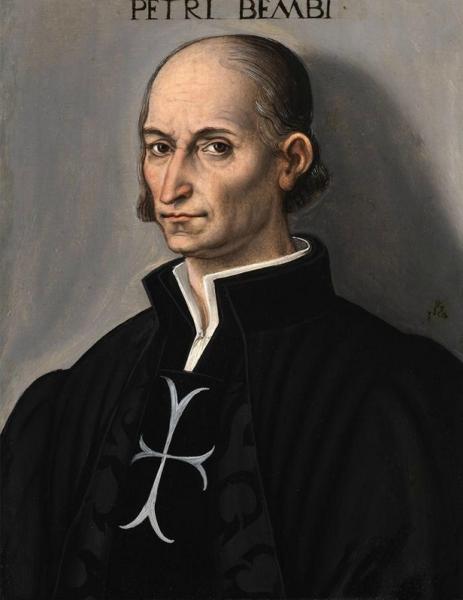 Born in the family palazzo on the Grand Canal, Pietro Bembo (1470-1547) was the son of Bernardo Bembo, a scholar and ambassador who had such a deep love for Italian literature that he paid for a monument to Dante in Ravenna, the city where the great poet died. His son not only inherited his love, but became a key figure in the Italian Renaissance. He successfully promoted the acceptance of the Tuscan dialect (which he codified) as the literary language for all Italy.
Young Pietro travelled widely with his father; he spent two years in Messina, Sicily to learn ancient Greek, wrote fluently in Latin and attended the University of Padua. While in Sicily he climbed Mt Etna, leading to his first work, De Aetna (On Etna), published by Venice's great Humanist publisher Aldus; together they made it an early version of the affordable pocketbook, printed with a font that still bears Bembo's name—a clean, revolutionary format that made the publishing house a huge success. Bembo later edited Petrarch's Italian poems (1501) and Dante's Terze rime (1502) for Aldus.
Bembo's friends included Giovanni Bellini and Giorgione. He wrote Gli Asolani in 1505, a poetic dialogue on the nature of love set in Caterina Cornaro's court in Asolo, using the language of Petrarch and Boccaccio, and dedicating it to his lover, Lucrezia Borgia. Published by Aldus, it became a best seller in its day. Much of it was put to music during his lifetime.
After failing to win election to any governmental post in Venice, he spent time at the sophisticated court of Ferrara, where he met Isabella d'Este and the poet Ariosto (author of the epic poem, Orlando Furioso). Later, at the court of Urbino, he became friends with Raphael.
In 1513, Bembo went to Rome with Giulio de' Medici and became the Latin secretary of Pope Leo X (son of Lorenzo de' Medici) and a Knight of St John, taking vows of chastity, poverty and obedience. When the pope died in 1521, he retired to a villa in Padua for his health with his mistress Morosina, who would bear him three children.
Bembo was an avid collector of books, paintings, coins, bronzes, gems and curiosities, and by the time he moved to Padua he had inherited his father's collection as well. His house was like a museum, and attracted scholars from across Europe: there was Mantegna's St Sebastian, works by Giorgione and Raphael, and the Bembine Isiac table which he had bought from a Roman locksmith after it was stolen in the Sack of Rome in 1527, a mysterious bronze, silver and enamel table devoted, seemingly to the cult of the goddess Isis ( it ended up in the Egyptian museum in Turin; although it has attracted much esoteric attention, the general opinion is that it was made a Roman artist who liked Egyptian art).
In 1525, Bembo published Le Prose della volgar lingua (Writings in the vernacular tongue), his seminal treatise on the Italian language, and was appointed to the office of official historian of Venice in 1529, eventually producing the Rerum Veneticarum Libri XII, a history of Venice from 1487 to 1513 (he wrote it in Latin, but immediately translated it into Italian (1551); he also served as librarian of St Mark's.
When Pope Paul III, eager to improve the scholarship in the College of Cardinals, made him a cardinal in 1539, Bembo, then age 69, returned to Rome and took priestly orders. Before he left, Titian painted his portrait; he died at age 77 and is buried in Rome's Santa Maria sopra Minerva.