Grand Canal Tour, part 4
Ca' Foscari to Accademia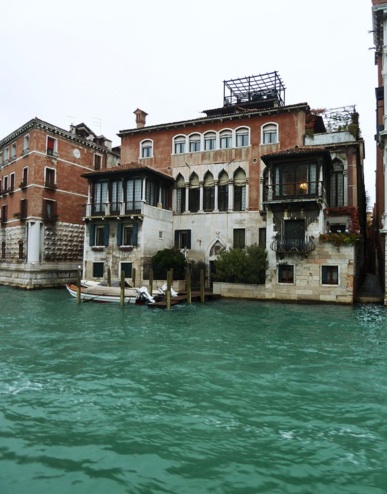 Continuing from Grand Canal Tour, Part 3. As it meets Rio di Ca' Foscari, the Grand Canal becomes even wider and grander; nearly all of the family names represented on this stretch can be found at least once in the list of doges.
On the Right
Palazzo Balbi, now seat of the President of the Veneto region and of the regional council, was designed by Alessandro Vittoria. In the 18th century it was residence of British Consul Joseph Smith, who commissioned a new facade from Antonio Visentini.
Ca' Foscari and the adjacent **Palazzo Giustiniani **were designed in the mid 15th century by Bartolomeo Bon and are both today part of the University of Venice Ca' Foscari. Next door rises the massive Ca' Rezzonico by Longhena, expanded in the 1740s and now the excellent Museo del Settecento.
After two more canals, the next substantial Gothic palace is the 15th-century Palazzo Loredan, later the Austrian Embassy and a nest of espionage and intrigues. To the left of the next canal, the Palazzo Contarini degli Scrigni and the adjacent Palazzo Contarini Corfù are two palaces connected into one, half Gothic and half a work (1609) of Vincenzo Scamozzi; among the famous guests were Marconi, Gabriele D'Annunzio, Mascagni, the French actress Réjane, and Charles and Diana, in 1985.
The wooden Ponte dell'Accademia spans the canal with a single arch and leads to Venice's great art gallery, the Accademia.
On the Left
One palace before San Samuele is the odd 13-windowed Palazzo MoroLin, built for the painter Pietro Liberi by rococo painter Sebastiano Mazzoni. Its solemn block of a neighbour, Palazzo Grassi, was built in 1748 by a wealthy family from Bologna who bought their way into the Golden Book of the nobility, and not belongs to the Pinault Foundation. It overlooks Casanova's old stomping ground: the Campo San Samuele and its church and the adjacent Palazzo Malipiero, with its distinctive and very rare garden.
Just before the next canal (Rio del Duca), the Ca' del Duca was built over an ambitious but never completed work of Bartolomeo Bon, built for the father of Caterina Cornaro then purchased by Francesco Sforza, the duke of Milan, although political rivalries with Venice meant he never had a chance to enjoy it; Titian used it as a studio while working on his paintings for the Palazzo Ducale. Today it's a hotel.
After the canal come the 15th-century Gothic Palazzo Falier-Canossa, with an ornate interior, sometimes open to the public during the Biennale, and the Palazzo Giustinian-Lolin. The latter, with its pair of obelisks, designed by Longhena (1623), was once home to Ugo and Olga Levi; since 1962 the palace has housed the Fondazione Ugo e Olga Levi, dedicated to all aspects of music, with a major music library, open to the public by appointment.
The tour concludes with Part Five: the Grand Canal from the Accademia to the Lagoon.