Pietro Aretino
Scourge of Princes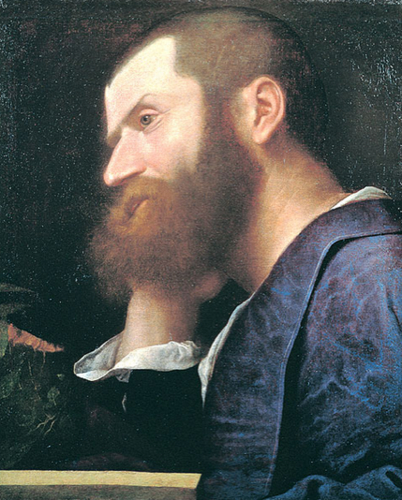 His literary talent, his clear and sparkling style, his varied observation of men and things, would have made him a considerable writer under any circumstances, destitute as he was of the power of conceiving a genuine work of art, such as a true dramatic comedy; and to the coarsest as well as the most refined malice he added a grotesque wit so brilliant that in some cases it does not fall short of that of Rabelais. Jacob Burckhardt, The Civilization of the Renaissance in Italy, 1855.
A native of Arezzo in Tuscany (like his good friend Sansovino), Aretino (1492-1556) was the first man to run a literary protection racket – princes and cardinals paid him not to write about them. Like Sansovino, he came to Venice in 1527 as a refugee from Rome, after a career smearing the reputations of cardinals (paid for by Giulio de' Medici, when he wanted to be elected pope), publishing erotic sonnets—openly bisexual, he is given credit for inventing modern literary porn—and surviving an assassination attempt by a bishop.
With anti-papal Venice as a secure base, Aretino began his new career of publishing brilliant letters, flattering and satirizing public figures from Emperor Charles V on down, using well-informed sources to blackmail. He lived near San Giovanni Crisostomo in a house so full of people coming and going that some mistook it for a tavern and asked for a bill.
Aeration had a keen eye for art, and he did much to increase the reputation of his friend Titian, while annoying Michelangelo so successfully that the artist painted him in the Sistine Chapel Last Judgement as St Bartholomew, holding the skin of Michelangelo, whom he had 'flayed' (Titian, perhaps in response, used Aretino as a model for Pontius Pilate).
Besides getting under the skin of public figures, he wrote comedies and dialogues, mostly about brothels, poking fun at the erudition of the day. His prurient interests kept his reputation in the hands of the same kinds of academics he mocked. And Arentino died as he lived: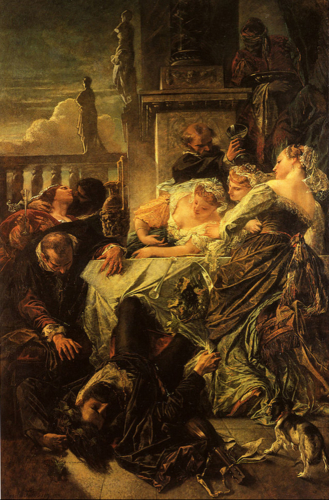 He is buried in the floor of San Luca, after dying in a tavern after laughing too hard at a dirty story told about his own sister.