Luigi Nono
Avant garde composer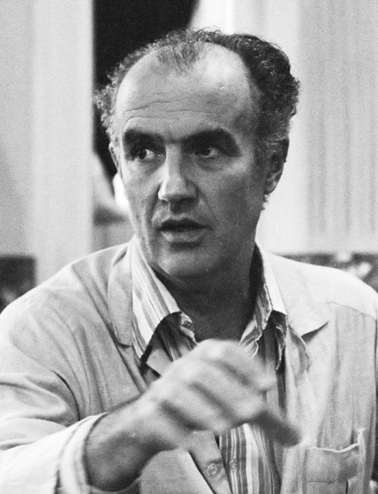 Venetian-born Luigi Nono (1924-1990) was, along with Karlheinz Stockhausen, one of the musical greats of the latter 20th century. He came from a well-to-do artistic family, and fought in the Resistance during the Second World War, when he joined the Italian Communist Party. Politics and the search for social justice would influence his work for the rest of his life.
Nono was a great admirer of Arnold Schonberg: the composition that first made Nono famous was his Variazioni canoniche sur la serie de l'opus 41 de Schonberg (1950) at the International New Music Festival at Darmstadt. Five years later, he married Schonberg's daughter Nuria, and produced another of his major works, Il canto sospeso (1955–56) for solo voices, chorus, and orchestra.
In 1958, Nono in a lecture spoke of a 'Darmstadt School', a term still used today for the provocative, edgy music composed during the 1950s by himself and Pierre Boulez, Bruno Maderna, Karlheinz Stockhausen and others. His best-known work of that early period, Intolleranza 1960, with its sets by Emilio Vedova and political slogans and quotes from Brecht and Sartre caused a riot between leftists and rightists at its premiere in 1961 at La Fenice.
Later in life he experimented with electronics. In 1976 he premiered his Promoteo, a massive installation of sound considered one of his masterpieces (he called it a 'tragedy of listening'), in front of San Lorenzo, in a specially built wooden 'ark' designed by Renzo Piano.
Other notable late works were a composition for orchestra in micro-intervals dedicated to a fellow Venetian, A Carlo Scarpa, Architetto, Ai suoi infiniti possibili (1985), and the "Hay que caminar" Soñando for two violins (1989)
As Tom Service wrote in his piece about Nono in The Guardian (26 November 2012):
Few composers have wanted their music to say, to mean, to be about something more than Nono did, and few have understood as keenly that every musical decision a composer makes also has social and political ramifications. But Nono's real legacy, I think, is in drawing attention to the act of listening itself as a space to sound out ourselves and our relationship with the world, something that's much more politically profound than any kind of rabblerousing from the rooftops.
His musical archives can be visited in the cloister of SS. Cosma e Damiano on the Giudecca, and he lies buried on the island of San Michele.