Emilio Vedova
Self-taught revolutionary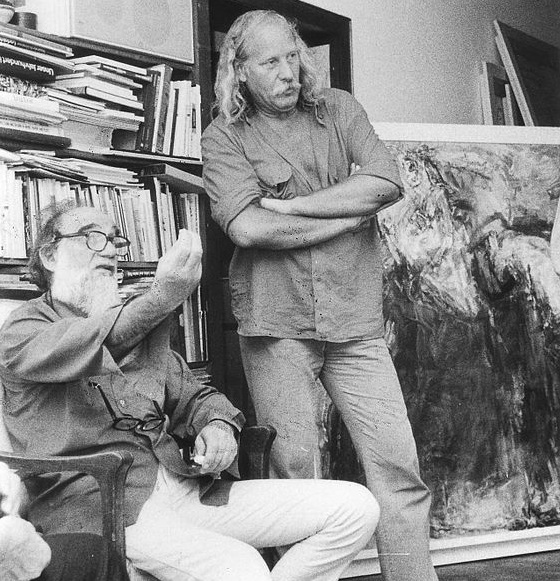 My works are not creations, but earthquakes.Emilio Vedova
Born in Venice, Emilio Vedova (August 9, 1919–October 25, 2006) was the son of artisans who taught himself to draw, sketching buildings and Renaissance paintings around Venice. Two of his first major works, The Raising of Lazarus and Crucifixion from Behind (both 1937) were inspired by dramatic compositional and lighting effects of Tintoretto.
Vedova joined the Resistance in Rome, and made a name for the drawings he did as a partisan. After the war he 1946 joined Renato Guttuso in founding the avant-garde group, the Fronte Nuova delle Arti, an an uneasy mix of abstract and figurative artists. In 1948 he had his first show at the Biennale.
In 1953, as his work became increasingly abstract, Vedova broke with the Fronte Nuova, believing the mission of the artist was to express reality, referencing contemporary events, yet without resorting to realism. Along with fellow Italians Lucio Fontana and Alberto Burri he became a major figure in the art informel movement—the European take on the abstract expressionism of American artists such as Willem de Kooning and Jackson Pollock.
In 1961 Vedova designed the sets and costumes for Luigi Nono's Intolleranza '60; he was made artist in residence in Berlin in 1963-64, not long after the construction of the Berlin Wall, a traumatic experience that inspired his Absurdes Berliner Tagebuch '64 (Absurd Berlin Diary '64), works that took him off canvas and into the realm of installation–an experience he carried further in the spectacular Spazio/Plurimo/Luce created for the Italian pavilion at the 1967 Montreal EXPO, when he used shards of Murano glass that reproduced his paintings, projected on the walls to experimental music in a half hour loop.
Vedova never stopped innovating and exploring, producing several important cycles including his massive teleri canvases, the tondi (circular canvases, including He Who Burns a Book Burns a Man in 1993, a response to the shelling of Sarajevo library during the war in Bosnia, and ...in continuum...paintings with no beginnings or ends. In 1997, he was awarded the Biennale's prestigious Golden Lion award for Lifetime Achievement, followed by a major retrospective at Castello di Rivoli in 1998.
In Venice you'll find his works in his foundation, in the recently opened Magazzini del Sale; others in the Peggy Guggenheim and modern art collection in Ca' Pesaro