Palladio
The first professional architect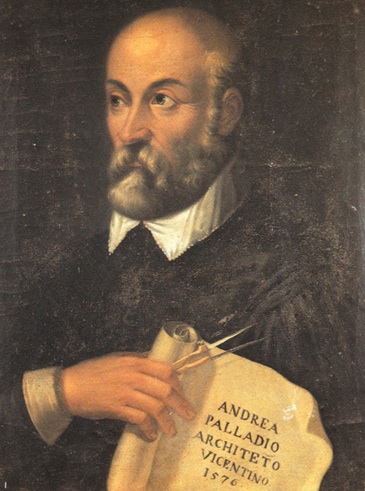 Palladio (Andrea di Pietro della Gondola, 1508–80) may have changed the face of Western architecture, but he could not have had a more unlikely background. Born in 1508 into a poor family in Padua, he was apprenticed him to a stonecutter at age 13. Treated harshly, he ran away, taking refuge in Vicenza, where he found a job as an assistant with a kinder family of stonecutters. And so he would have remained, chiselling away, had not Dame Fortune smiled on him in 1537 and sent him to the humanist scholar Giangiorgio Trissino, to work on the villa he was redesigning at Crioli, just outside Vicenza.
Able to see a spark in Andrea that no one else had bothered to notice, Trissino became his fairy godfather, teaching him the essentials of a Renaissance education and the principles of classical architecture, especially De Architectura of Vitruvius, a Roman treatise that had been rediscovered in the 1400s. The 30-year-old stonecutter blossomed. Trissino proudly introduced him to his humanist cronies in Vicenza, Padua and Venice, got him his first commission as an architect, designing the Villa Godi at Lonedo di Lugo (1538), and he gave him his name Palladio (from Pallas Athena, the goddess of wisdom) in 1540.
To complete Palladio's education, Trissino took him on a two-year study tour of Rome (1540–1), giving him first hand knowledge not only of the ancients, but of the pioneer architects of his day – Michele Sanmicheli, Giulio Romano, Giovanni Maria Falconetto and Sebastiano Serlio. Palladio would return to Rome four times, measuring and analyzing; he even wrote a best-selling guidebook to the ruins. Yet rather than direct inspiration, ancient Rome and Vitruvius would act primarily as emotional reference in all his work, as he created idylls that reflected an antiquity that was partly real (notably in Italy, where Roman ruins were everywhere), and partly the dream antiquity that infused the Renaissance.
But there was far more to Palladio than Roman play-acting; more then any other architect of that talented age, he was able to invent a style that was at once imposing yet sensuous, perfect for his time and place. Venetia's patrician élite, increasingly unable to risk their fortunes in new trade ventures or Middle Eastern derring-do, now sought to escape city business in the summer, seeking a life of balance and harmony in the country, enjoying the beauties of nature while supervising their new-found interests in agriculture. While they required the structures necessary for a working farm (barchesse), residential defence was no longer a consideration, even in the open country; by the time Palladio came on the scene, Venetia had recovered from the War of the Cambrai and was at peace.
Palladio led the way in abandoning the old fortified country residence in favour of light and comfort. His famous temple fronts and airy double loggias, derived from his somewhat mistaken notions of Roman domestic architecture, were revolutionary in the 16th century; they lend the villas an openness and serenity that always feels at home in the Veneto countryside.
One lesson from Vitruvius that Palladio engraved on his heart was the ideal of harmony and proportion. According to his own writings, the elements of a building must correspond to the whole and to each other, the careful consonance of parts and dimensions that was the original meaning of the word 'symmetry'. Within those restrictions, what he called 'the certain truth of mathematics which is final and unchangeable', he managed a subtle variation of size and shape according to each commission, although always with the idea that no matter where one stood the whole would be immediately comprehensible.
Rudolph Wittkower, in his Architectural Principles in the Age of Humanism (1949) noted that Palladio's dimensions are based on the harmonic proportions of music, as in Pythagoras' musical scale. This was no accident – in the 16th century, music and architecture were praised as the most artificial of arts, based on science alone, and free from attempts to imitate or better nature.
Because of the innate classical grandeur of his designs, Palladio didn't need to rely as much as past architects on expensive stone, marbles, reliefs, exterior frescoes and gilding for effect; his finest villas and churches are endowed with a serene clarity and geometric simplicity, all white surfaces and columns, set against green lawns or reflected in the waters of the lagoon.
Unlike Alberti, Michelangelo, Raphael, Sansovino, Giulio Romano and the other great architects of the Renaissance, Palladio was the first who did nothing but build. He was the first professional architect.
But he also found the time to pass his knowledge on. Besides his very popular guide to Rome, he illustrated Daniele Barbaro's annotated edition of Vitruvius' De Architectura, and then, in 1570, published his own monumental I Quattro Libri dell'Architettura, offering practical advice for builders, illustrated with fine woodcuts of his own buildings.
In Venice his two greatest works are churches: San Giorgio Maggiore and the Redentore. Other works inclue Le Zitelle, San Pietro di Castello, and the facade of San Francesco della Vigna.