High Renaissance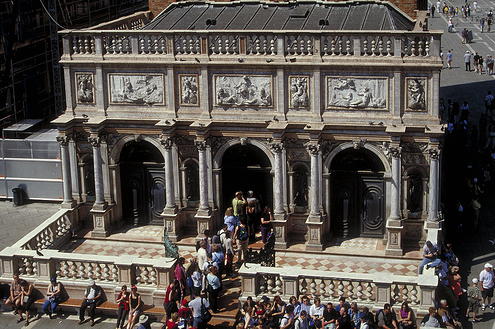 Continued from the Early Renaissance.
The 16th century is often referred to as the 'Golden Age' of Venetian Art. While the rest of Italy followed the (mostly Tuscan) artists in Rome in learning drawing and anatomy, the Venetians went their own way, obsessed with the dramatic qualities of light and atmosphere. It was also a time, beginning around 1500, when wealthy Venetian began to collect art and patronize artists and sculptors, allow them to go beyond traditional commissions for altarpieces and develop new, secular art forms— evoking classical mythology, poetry, history and philosophy.
The elusive, short-lived Giorgione of Castelfranco, a pupil of Giovanni Bellini, was the seminal figure in this new manner. In his most famous painting, The Tempest, the mysterious subject matter is subordinate to its tense, brooding atmosphere.
Giorgione invented 'easel painting' – art that served neither Church nor State nor the vanity of a patron, but stood on its own for the pleasure of the viewer. Giorgione was also the first to paint freely, without preliminary sketches, beginning the Venetian trend away from drawing – much to the disdain of their Tuscan contemporaries.
Giorgione's brief career was linked with two fellow Bellini students and collaborators, whose works are sometimes confused with his. The first, Sebastiano del Piombo, left for Rome the year after Giorgione died.
The second, Titian, stayed in town to become a major transitional figure in Venetian art, though 95 per cent of his works were sent abroad to a host of foreign clients, or lifted by Napoleon. Emperor Charles V held him in such respect that during a sitting he bent over to pick up one of his fallen brushes.
In Titian's 90 or so years, he went from a style so imitative of Giorgione that it's virtually impossible to tell who painted some canvases, to dramatic religious compositions full of vibrant colour (most famously, the Frari altarpiece), through a series of ripe, bar-room nudes and portraits of big shots, to his last style, epitomized in the Accademia's Pietà, the paint literally smeared on with his hands, and left unfinished at his death.
In spite of his achievements, Titian's artistic vision seldom rose above the obvious; with his work, true imagination and virtuosity have parted ways. Nor are his contemporaries especially riveting, with the exception of Lorenzo Lotto, who, as a potential rival, was forced out of Venice by Titian's clique to spend the rest of a lonely career painting the most psychologically penetrating portraits of his generation.
Another contemporary, Palma il Vecchio, specialized in beautiful women, from courtesans to his famous Santa Barbara in Santa Maria Formosa, in an intellectually undemanding style echoed by his prolific followers, Bonifazio Veronese (or de Pitati) and Jacopo Bassano. The latter was also influenced by the exaggerated poses and extreme lighting effects of the Mannerists (the main appeal for El Greco, whom he also influenced), although in the end Bassano and his two artist sons are best remembered for their night-time nativities set in Italian barnyards.
Some 35 years younger than Titian, Tintoretto entered the Venetian scene of beautiful light and colour like a comet from outer space, reuniting virtuosity and imagination in his dynamic first canvases. Light and colour, or the lack of them, became the means and not the end to his feverishly visionary canvases, painted with fast, furious brush strokes. The inspiration to paint was so strong in him that he would offer his services for free, or resort to tricks to get a commission, as in the case of his magnificent cycle in the Scuola di San Rocco.
Unlike Giovanni Bellini, however, Tintoretto was a baleful influence on his followers, who would fit Yeats' 'The best lack all conviction and the worst are full of passionate intensity.' Palma il Giovane was only the most prolific, and occasionally produced exceptional work.
Fewer painters tried to follow the act of Tintoretto's elegant and urbane contemporary, Paolo Veronese, who arrived in Venice in the 1550s to paint magnificent, lavish canvases in jewel-like colours that are the culmination of all that Venice had to teach in pageantry, architectural settings (Veronese liked nothing than a good balcony) and interior decoration, populated by larger than life Shakespearian characters straight from central casting.
In scupture, Tullio Lombardo led the way to a more poetic, more naturalistic style, and sculpted the first marble nude (his Adam in New York's Metropolitan Museum) since antiquity. The most important architect, and one of the finest sculptors in 16th-century Venice, was Jacopo Sansovino, who arrived on the scene after the Sack of Rome and adapted his training in Tuscany and Rome to create a distinctive Venetian style, richly decorated with sculpture and classical motifs that create patterns of light and shadow (especially in the Biblioteca Marciana and the Loggetta).
His most talented pupil, Alessandro Vittoria, broke away from Sansovino's graceful classicism in favour of a more emotional Mannerist style. But the lovers of antiquity were to dominate, especially in the work of the Veneto's most influential architect, Andrea Palladio.
Palladio's greatest talent was in adapting classical models to modern needs: his famous villas not only fitted his client's desire to look the part of a Roman patrician in the country, but were also functional as working farm centres. His ecclesiastical buildings (San Giorgio Maggiore, the Redentore, San Francesco della Vigna) are concentrated in Venice – sleek, white, minimally adorned temples.
Next: the Baroque.